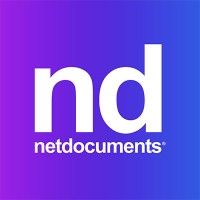 NetDocuments
NetDocuments
Founded in 1999, with more than 3400+ enterprise customers worldwide, NetDocuments is dedicated to helping individuals, teams, and firms Work Inspired. With NetDocuments, millions of scattered documents become one source of unified insights. Content management processes and workflows make the leap from intuitive to invisible. The full power of collective knowledge and past work becomes available wherever firms need it. And every document gets the industry's best protection against any type of threat—from careless employees to nation state attacks. Through the legal industry's most trusted cloud-based content services and workflow platform, complete with state-of-the-art built-in security, compliance, and governance solutions, we offer document management, email management and collaboration technology complete with disaster recovery, enterprise search, and matter centricity features. Our 5 solutions; ORGANIZE, PROTECT, PLAN, DELIVER, and LEARN, help legal professionals work inspired.
Purpose
NetDocuments helps teams inspire their best work through a seamless document and email management system that is intuitive and collaborative, and utilizes state-of-the-art security to protect against any type of threat.
Mission
To be the foundational platform for the modern legal industry, helping law firms and corporate legal departments work inspired through technologies that deliver greater security, productivity, and collaboration.
Values
Every Interaction Matters

Every interaction a Netdocuments employee has with each other and our customers large or small is meaningful. We respectfully listen to to what is being said by our coworkers and our customers. We are accountable for our actions and our work. We care about the impact each and every interaction has to our customers overall success.
Employees
235 US Employees
Industry
Mass Market Apps / Software
We're Hiring!
What employees are saying
I feel respected and valued by leadership and my team, and I believe that NetDocuments employees are inspired and passionate about creating and selling an excellent product.
I can work at home, or the office, as suits me. The work is interesting and fulfilling. I see how I contribute to the company
NetDocuments encourages a good work/family balance. NetDocuments is always open to looking at new technologies and processes; we're never stuck in a rut with old technologies.
I can come to work every day and feel like I matter. I have the ability not just to help those I sell to, but also the team members that I sell with. I get to help people grow and develop as people and as professionals.
I love my team and peers. We are family, and we respect each other. I work with highly motivated individuals, who are smart, and allow me to learn from them!
I am free to work as I work best. I love helping people succeed. I love teaching and training others. I do this every single day at NetDocuments. I love learning new things and have the freedom to do so at NetDocuments.
I have the opportunity to make a difference in people's lives. I have the opportunity to work in up-to-date technology. I work with people that care about what they do.
I am supported in making my new ideas a reality. From start to finish, my leaders are willing to guide me and let me try new things. This keeps work fresh, exciting, and fun so I don't burn out or get bored.
I am excited to be part of a great company that offers me opportunities to grow my skills and positively impact the company
My contributions are recognized and I am encouraged to follow my own intrinsic problem solving capabilities.
Company Snapshots