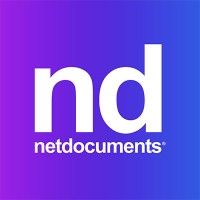 NetDocuments
NetDocuments
NetDocuments is the world's #1 trusted cloud-based content management and productivity platform that helps legal professionals do their best work. We strive to win together through passionate hard work, exploring new things and recognizing every interaction matters.

NetDocuments provides rewarding career growth in an inclusive, diverse environment where employees are encouraged to openly contribute creative ideas and innovation, backed by supportive peers and leadership working together to achieve our goals as a unified team.

At our core, we are dedicated to empowering our employees to drive successful business outcomes and better user experiences for our customers and partners. Our customer-centric approach and employee enablement has allowed us to enjoy many accolades, including being named among the 2022 list of Inc. Magazine's 5000 Fastest-Growing Private Companies in America.

NetDocuments is a hybrid, remote-friendly workplace. Come join our team and work inspired each day!
Purpose
We help legal professionals do their best work.
Mission
We provide a cloud-based content management and productivity platform for legal professionals.
Values
Core Beliefs

We Win Together through Passionate Hard Work, Exploring New Things, Recognizing Every Interaction Matters and Taking Personal Ownership.
Employees
335 US Employees
Industry
Mass Market Apps / Software
We're Hiring!
What employees are saying
I feel respected and valued by leadership and my team, and I believe that NetDocuments employees are inspired and passionate about creating and selling an excellent product.
I can work at home, or the office, as suits me. The work is interesting and fulfilling. I see how I contribute to the company
NetDocuments encourages a good work/family balance. NetDocuments is always open to looking at new technologies and processes; we're never stuck in a rut with old technologies.
I can come to work every day and feel like I matter. I have the ability not just to help those I sell to, but also the team members that I sell with. I get to help people grow and develop as people and as professionals.
I love my team and peers. We are family, and we respect each other. I work with highly motivated individuals, who are smart, and allow me to learn from them!
I am free to work as I work best. I love helping people succeed. I love teaching and training others. I do this every single day at NetDocuments. I love learning new things and have the freedom to do so at NetDocuments.
I have the opportunity to make a difference in people's lives. I have the opportunity to work in up-to-date technology. I work with people that care about what they do.
I am supported in making my new ideas a reality. From start to finish, my leaders are willing to guide me and let me try new things. This keeps work fresh, exciting, and fun so I don't burn out or get bored.
I am excited to be part of a great company that offers me opportunities to grow my skills and positively impact the company
My contributions are recognized and I am encouraged to follow my own intrinsic problem solving capabilities.
Company Snapshots