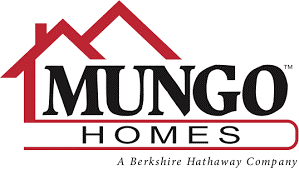 Mungo Homes
Mungo Homes
Purpose
The Mungo family started building new homes in Columbia, South Carolina in 1954, and now builds in Markets throughout South Carolina, North Carolina, Georgia, and Virginia. While still family-run today with Steven Mungo as CEO, Mungo Homes proudly became part of the Berkshire-Hathaway family of companies in 2018, and remains dedicated to creating quality, comfortable spaces for you to call home.

While Mungo Homes has won countless awards on local, state, and the national level – including
America's Best Builder 2012 by Builder magazine, the National Green Advocate of the Year and the National Housing Quality Award, what makes us most proud is the many letters and emails we receive from homeowners saying how much they love their home.

In addition, we have a long tradition of improving the communities in which we build, and through the Mungo Homes Foundation provide economic, educational, health, housing, and emergency hardship support to charitable organizations. A portion of each home sold is invested in the local community.

Mungo Homes sold more than 3,100 homes across the footprint in 2021, with revenue topping $1B. The company looks forward to the expansion into the Charlotte market in 2022.
Vision
We accomplish our mission when we:
- Build relationships through empathy, trust, and respectful interactions.
- Understand and meet the needs of customers, communities, and team members.
- Commit to constant improvement in ourselves and our community.
- Create space to experience joy and peace of mind.
- Encourage a healthy balance of faith, family, and career.
- Commit to do the right thing.
Mission
To serve so that others are empowered to thrive!
Additional Culture Details
We really want you to feel like you're part of the family when you work at Mungo Homes. And that's exactly what our Team Members say! At Mungo Homes, company culture is important to us! It's not uncommon to start your career at Mungo Homes in one position and, sometime later, find yourself intrigued by an internal job posting in another department or, even, in a different Market! In fact, a number of Team Members have changed career paths all while staying with the company. We promote opportunities for growth through training and promoting from within and this is just one reason why Mungo boasts of Team Members who have enjoyed a tenure of 10, 20 or, even, 30 years!

In keeping with the Mungo family tradition of "giving back," the Mungo Homes Foundation was established in 2021 with the sole mission of improving the communities in which Mungo builds by providing economic, educational, health, housing, and emergency hardship support to individuals in need due to circumstances beyond their control. A portion of each home sold is contributed to the Foundation and is invested in the local community of that home.
Values
Faith, Family and then Work

We believe that family and faith come first, and a healthy work-life balance is paramount. So, we are pleased to provide the services of our Corporate Chaplain, who has a regular weekly presence in our home office to minister to the needs of our Team Members.
Company Snapshots