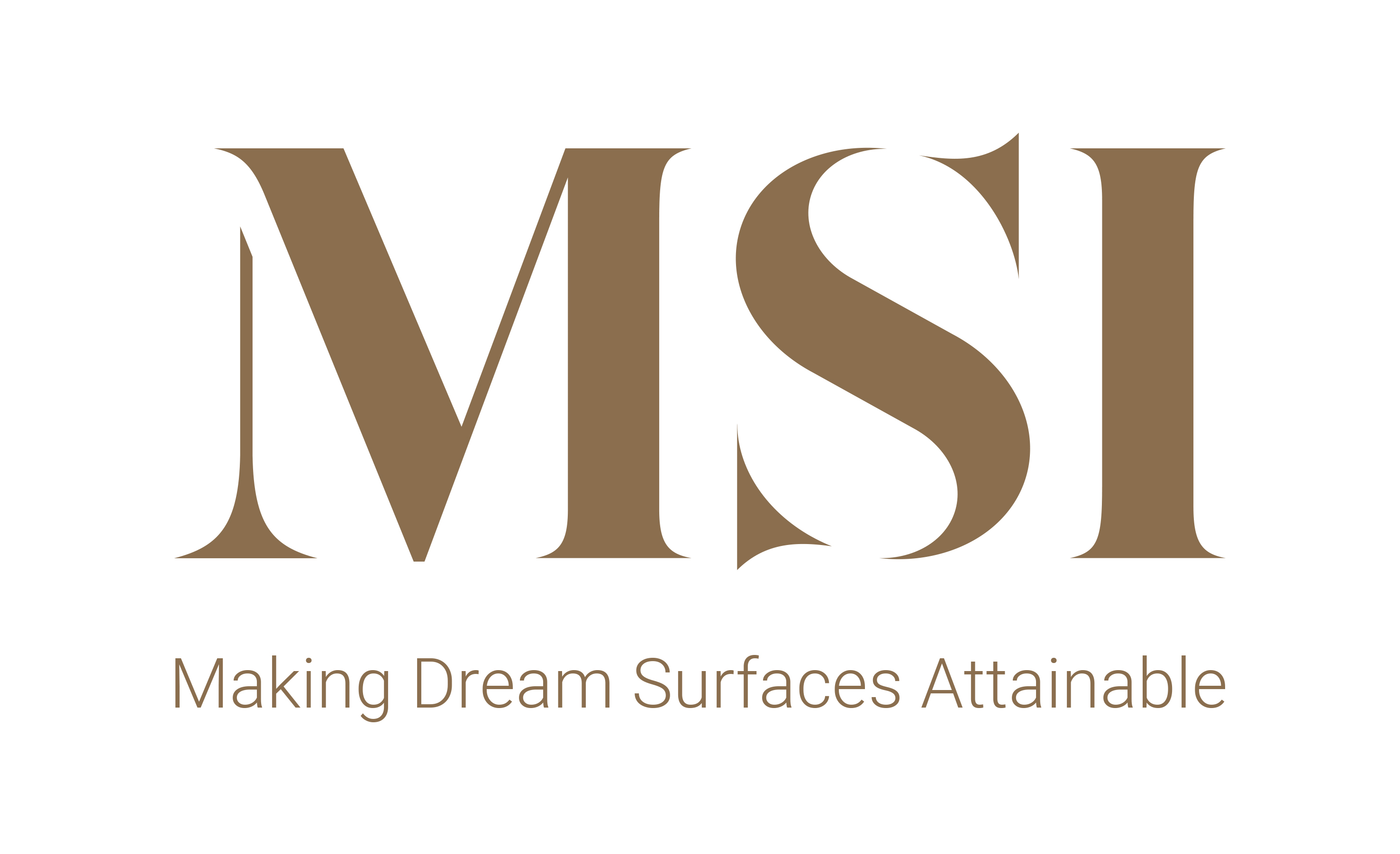 M S International, Inc.
M S International, Inc.
Founded in 1975, MSI is a leading nationwide distributor of flooring, countertop, wall tile and hardscaping products. Headquartered in Orange, California, MSI also maintains distribution centers across the United States and Canada. MSI's product line includes natural stone products imported from over 36 countries on six continents. MSI imports over 80,000 containers per year and manage hundreds of millions of sq.ft in stock, including over 5,000 SKUs of luxury vinyl tile, porcelain & ceramic tile, quartz countertops, natural stone countertops and tile (granite, marble, travertine, slate, limestone, quartzite, and sandstone), prefabricated countertops, decorative mosaics, and sinks.
Purpose
To Make Dream Surfaces Attainable. Our company was founded on a beautiful ideal: We find joy in helping everyone make their dreams a reality. This purpose applies to our suppliers and customers, end-consumers, and our employees.
Vision
To achieve disciplined growth at double the industry rate while expanding the size of the market. We believe in our industry and its role in making the world a more beautiful place. As one of its leaders nationally, we have a responsibility to help shape the industry's future and ensure its growth.
Mission
We will achieve sustained growth through: 1.Business innovation. 2. A diverse assortment of affordable and accessible products. 3.Geographic expansion. 4. Attentive partner support. 5. A culture of respect and teamwork.
Values
START FRESH EVERY DAY

We've been in this business a long time and we're proud of how far we've come. But we know that tomorrow may bring us new surprises. No matter how high we climb, we stay humble, open-minded and ready for our next challenge.
Employees
2,650 US Employees
Industry
Wholesale Distribution
We're Hiring!
What employees are saying
This is the best job I have ever had. The people and environment are almost always positive despite being thrown challenges. Everyone works together for the benefit of the team not just themselves, and everyone has created some amazing friendships across all departments.
They treat me great and listen to what I have to say
It is rewarding to be able to help customers solve problems and find solutions.
Management allows me to be creative with clear direction. My team supports each other. Owners care about their employees.
Gives me wings for creativity
I am given the support and guidance needed to be the best I can be at my job without
I enjoy the challenges my work gives me, solving problems, interacting with customers and my fellow employees.
I'm fully appreciated for what I do. I'm a people pleaser, but my manager makes sure that I don't take too much on at once so I don't get overwhelmed. This is the first time I feel like I have a healthy work/life balance.