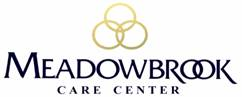 Meadowbrook Care Center
Meadowbrook Care Center
Family owned - Faith Based Rehabilitation and Skilled Nursing Healthcare; Dementia Care
Mission
Meadowbrook Care Center will deliver
Exceptional quality of care and quality of life
to our residents. We will provide a pleasant, supportive environment in which to live and work and tailor our services to our customers' needs.

We shall pursue excellence in all performance disciplines and departments. Our center will be of exceptional service and assistance to our residents in fulfilling their physical, spiritual and emotional needs.