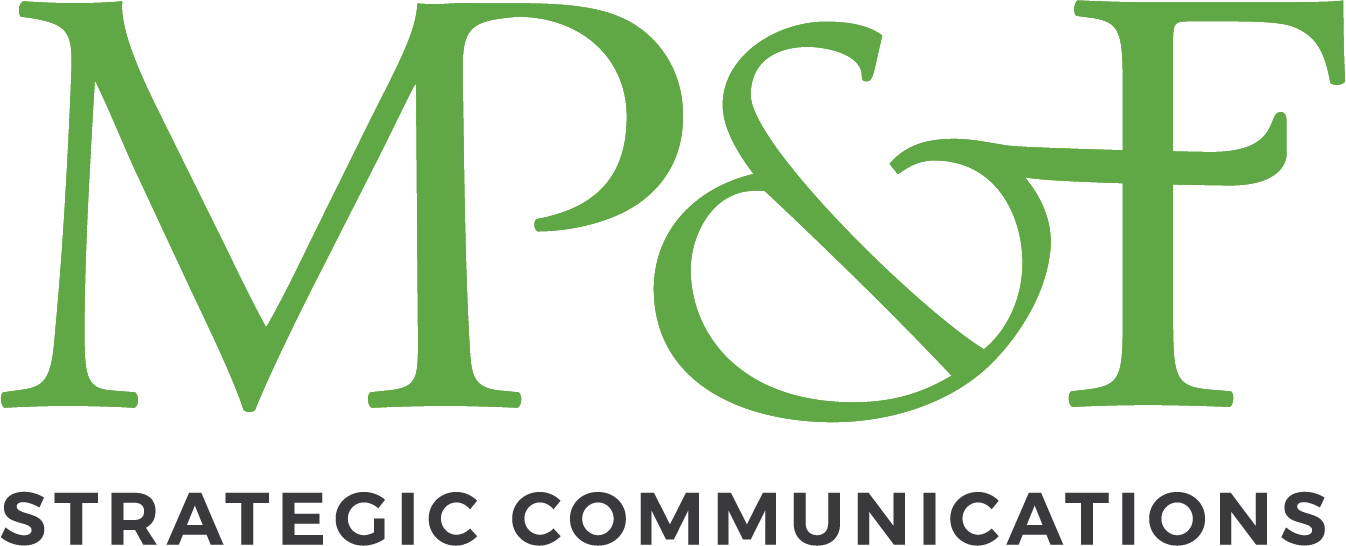 MP&F Strategic Communications
MP&F Strategic Communications
McNeely Pigott & Fox is an award-winning, full-service public relations and marketing communications firm based in Nashville, Tenn. MP&F's Nashville office, located in the heart of downtown in the Renaissance Hotel, is home base to the majority of our 65 staff members. We also have a satellite office in Washington, D.C.

As one of the largest independent PR firms in the Southeast, we provide communications services for a diversified client mix at the local, regional and national levels. Our clients include large corporations, small businesses, governments, institutions and associations.

At MP&F, we pride ourselves on hiring staff with varying backgrounds. Doing so allows us to expand the breadth of knowledge and ability in our talent pool and gives us the ability to tailor teams to specific clients and projects for the best possible results.
Purpose
We are an award-winning, full-service communications and public relations firm based in Nashville, Tennessee. We develop high-impact, strategic communications for a variety of local, regional and national clients.
Vision
MP&F began in 1987 as a one-person consultancy. Today, we are a team of 70-plus communications and public relations strategists that works with clients large and small from all over the country in a variety of industries, from health care to technology to hospitality and tourism. We help our clients reach the right audiences with the right messages in order to create change and motivate action.
Mission
MP&F Strategic Communications is first and foremost a communications company, where we utilize public relations, research, effective message development and common sense to win for our clients. We do this with integrity, creativity and resolve. Our mission has three components:
1. Provide the very best communications services to help our clients meet their goals. WE WANT TO SUCCEED FOR OUR CLIENTS.
2. Provide the best possible workplace for our employees, and work as a caring team. WE WANT TO HAVE A GREAT WORKPLACE.
3. Provide solid business management techniques to allow all employees and owners to share in our successes. WE WANT TO GROW OUR PROFITS AND SHARE OUR SUCCESSES.
Additional Culture Details
We are a destination workplace because we offer a compelling package: strong compensation, top-of-the-line benefits and a commitment to be a great workplace. Two unusual benefits are 100 percent paid health insurance and paid downtown parking in Nashville. But our defining quality is that we care.

We care about one another, whether that means staying late to help a co-worker beat a deadline or delivering meals to a staffer on maternity leave. In the past, we've created a college scholarship fund for the children of an employee who lost her husband early to cancer. We've provided eight weeks' pay to an employee who broke her neck in a diving accident. We make time for retreats, twice a year. We believe in transparency and inclusion, from full disclosure of financials for all staff to our diversity fellowship program. We're more than family-friendly. We are a family.

We care about the city, reflected both in the projects we take on that have helped shape downtown over the past 20 years (NFL Yes campaign, Bridgestone Arena, Country Music Hall of Fame, Nashville Public Library, TSU-Avon Williams Campus, Music City Center, Ascend Amphitheater, TPAC, mayoral inaugurations, many more) and in our pro bono work, which is selected by staff members and provides more than $300,000 of services annually to nonprofits and underfunded projects that make a difference in the lives of Nashvillians.

These two components are the primary drivers of our culture, which has propelled a 1987 start-up business into a $9.5 million/year company. Above all things, Mark McNeely, Mike Pigott and David Fox wanted to create a company where their employees looked forward to working every day, for each other and on behalf of the city. They also wanted to make money. They have done both things. We have won the Tennessean's Top Workplace award each year it has been awarded, now seven years in a row.

MP&F has changed gradually over time to meet the needs of its workforce, which is mostly women (as is common in marketing communications industry) and mostly practitioners who are in their 20s and 30s. In building a destination workplace, as important to us as making money, we encouraged women to lead. Now those women are leading. As a consequence or a coincidence, we now have flex time, a work-from-home policy, eight weeks of paid maternity leave (along with generous paternity leave) and casual dress every day of the week, not just Friday.

This year, MP&F Strategic Communications was certified by the State of Tennessee as a majority women-owned business for the first time, as these young communicators have grown up. Jennifer Brantley was an unpaid student intern, our first, in 1992. Alice Chapman started with us in 1995, her first job after graduating UT-Knoxville. They've never worked anywhere else. Both of them are now partners and hold a majority stake in the company. Alice is the current managing partner. We never wanted to sell and never needed to. Our plan was to ensure that MP&F would be sustained as an independent, locally owned agency after the names on the door retire. That meant bringing on our next generation of equity partners, and we didn't need to search far and wide to find them. They were within our walls.

We offer a competitive compensation package that includes the benefits mentioned here plus many bonus incentives: billing bonus, new business bonus, year-end bonus, discretionary bonus and anniversary bonus.

Ultimately, we believe we are a destination workplace not because of any one thing but because of all of them. We trust our employees. We give them room to flex their creativity, make decisions and solve problems. We not only let them have fun but create space for it, with much thanks to our long-standing RAA-RAA committee. RAA-RAA stands for "Retreats, Activities and Appearance." The idea behind RAA-RAA is that the employees themselves get to help shape the atmosphere of their workplace. Companies have different ways they activate company culture. RAA-RAA is a big part of what makes MP&F culture work.
Company Snapshots