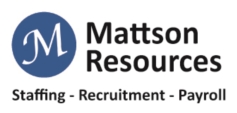 Mattson Resources
Mattson Resources
We are a recruiting, staffing and payrolling firm specializing in Accounting & Finance, IT/Engineering, Skilled Industrial and Office Professionals. Our group has a combined 375 years of Staffing experience
Purpose
To become the most respected staffing company in the country. To help clients and candidates alike sieze their potential
Vision
To help ethically all people we touch as a company and to make a bad experience a great one.
Mission
To provide extraordinary value where loyalty, dedication and experience thrive.
Additional Culture Details
At Mattson Resources our core values are defined by who we are and who we want to be.

As a premier staffing firm in Orange County, we have many ethical and professional obligations that provide a baseline for our actions; we take great pride by satisfying these.

We also have special attributes that distinguish us from others, and we invest ourselves accordingly. While we think these values help foster financial success, our commitment to them instead rests upon our conviction that these qualities lead to both personal enrichment and professional happiness. These qualities are most successful when practiced by all, so each of us bears responsibility to one another to embody, practice and promote each of these core values every day.

Company Snapshots