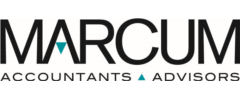 Marcum LLP
Marcum LLP
Marcum LLP is a national accounting and advisory services firm dedicated to helping entrepreneurial, middle-market companies and high net worth individuals achieve their goals. Since 1951, clients have chosen Marcum for our deep expertise and insightful guidance in helping them forge pathways to success, whatever challenges they're facing.

Marcum offers a complete spectrum of tax, assurance and advisory services, as well as an extensive portfolio of industry-focused practices with specialized expertise for both privately held and publicly registered companies, and nonprofit and social sector organizations. Through the Marcum Group, the Firm also provides a full complement of technology, wealth management, and executive search and staffing.

Visit www.marcumllp.com for a complete list of our services.
Purpose
Marcum's success is based on our commitment to building meaningful, trusted relationships with our clients, creating positive service experiences, and delivering unexpected value wherever and whenever we can, while maintaining our professional independence and objectivity.
Vision
From the way we service clients to the training and development of our professionals, Marcum is committed to excellence in every aspect of our operation. Our focus on client success compels us to look beyond the numbers to see the opportunities, challenges, and solutions in every engagement. Innovation, proactivity, teamwork, and open communication are the hallmarks of our approach.
Mission
Our mission, as an organization of professionals, is to understand the business of our clients, to help our clients identify their business and financial needs, and to provide the services that will help them achieve their business and personal financial goals. We are committed to providing the most efficient and expeditious services, while always maintaining the highest ethical standards.
Additional Culture Details
At Marcum we want you to reap the rewards of a culture that promotes daily values and cultivates success.

That's why everyone - partners, senior managers and employees - follows a set of nine core values.

These core values define how we conduct ourselves and interact with our colleagues and clients. They guide us when faced with challenging situations. They help us maintain a high degree of professionalism within our industry. These values also provide the foundation for the Marcum culture.

•    Passion – Loving what you do.
•    Integrity – Doing the right thing.
•    Excellence – Giving your best.
•    Respect – Valuing everyone's contribution.
•    Teamwork – Cooperating, communicating and collaborating.
•    Community – Giving back.
•    Balance – Making a good life, not just a good living.
•    Independence – Maintaining objectivity and professional standards.
•    Firm – Firm first.

We also believe diversity, equity, and inclusion benefits our clients, our Firm, and the community at large. Diversity and inclusion aren't buzzwords that stop on a committee agenda; they describe Marcum and who we've been from the start. Women make up the majority of our associates and people of color and LGBTQIA+ and non-US born individuals are represented at every practice level including partners, directors and senior managers. In addition, some 30 languages are spoken by our employees.
Values
Passion

Loving what you do.
Company Snapshots