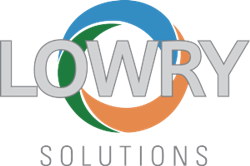 Lowry Solutions, Inc.
Lowry Solutions, Inc.
Lowry Solutions was founded in 1974 as a data peripheral supplier and emerged as a leading re-seller of hardware, software, and supplies in the barcode industry. Since then we've continually evolved and grown to meet the needs and challenges of our customers. This change has largely involved helping our customers leverage innovative technology more effectively to improve efficiency, increase quality and make them more agile. Today, we're a global systems integrator of Internet of Things (IoT), Radio Frequency Identification (RFID) and barcode solutions for supply chain applications. Lowry has been implementing real-time asset visibility solutions that simplify trace-ability and improve business outcomes through sustainable solutions. The company continues to evolve alongside its customers to provide the most complete and modern data collection, integration, and management solutions available.
Purpose
To provide innovative technology solutions that help businesses achieve their goals.