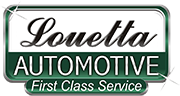 Louetta Automotive
Louetta Automotive
Louetta Automotive opened its first location in 1999 with the desire to have a place we would feel comfortable bringing our own vehicles and referring friends and family. In this industry, we believed there was an opportunity to provide a higher level of service at a better value.

We also sought to employ the most highly skilled individuals to provide our customers with the best service possible.
Vision
Our company's vision is to make a difference in our communities and lives of our customers and employees through first class automotive service.
Mission
Our mission is to deliver the best possible automotive service in our local community. To be known for the highest quality and as the most professional automotive service center in the area with unsurpassed personalized service that builds customer and employee loyalty.