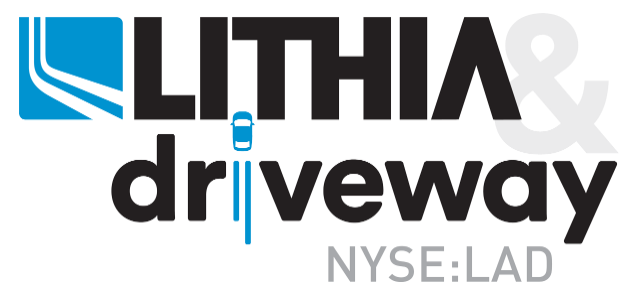 Lithia & Driveway
Lithia & Driveway
Lithia Motors, Inc.—doing business as Lithia & Driveway—is the largest new-and-used vehicle retailer in the United States. We are a publicly held corporation on the New York Stock Exchange (ticker symbol is LAD), and we are currently ranked #145 on the Fortune 500.
With hundreds of stores and offices throughout North America and the United Kingdom, we are profitably consolidating the largest automotive retail network globally.
Our winning formula for achieving industry leader status: a convenient, transparent buy-sell-finance vehicle experience for our customers. This formula supports our vision to meet and modernize personal transportation solutions wherever, whenever, and however consumers desire.
We love cars, our customers, our planet, and our communities—we encourage you to come by and "kick a tire" and see if Lithia & Driveway can jumpstart your career journey!
Purpose
Relationships are the key to Lithia & Driveway's entrepreneurial, high-performing culture—and we recognize the importance of our talented teams, customers, and communities.
Our incredible team members personify our mission of Growth Powered by People—and they are the true engine behind our success. To support them, we offer a total rewards benefits package designed to help them achieve a healthy work/life balance and financial security, as well as many professional growth opportunities so they can reach their fullest potential in our fast-paced culture.
We love our customers! To Earn Customers for Life, we're always anticipating the road ahead and innovating new ways to meet, exceed, and modernize the customer experience. That's why we offer consumer choice to the vehicle-ownership lifecycle with a combination of our vast store network with new online services, such as Driveway, our digital e-commerce platform.
Giving back to our local communities is deeply rooted in who we are as a company. We believe the best way to build community relationships is standing shoulder to shoulder helping our neighbors. We support local youth programs through our Lithia 4Kids program, and nearly all of our local stores have long-term, ongoing partnerships with many nonprofits in their areas.
We understand that a culture of belonging—across all levels—fuels innovative solutions, promotes team collaboration, invites personal development, and accelerates community engagement.
Vision
To meet and modernize personal transportation solutions wherever, whenever, and however consumers desire .
Mission
Growth Powered by People
Driven by our employees and preferred by our customers, Lithia & Driveway is the leading automotive retailer in each of our markets.
Additional Culture Details
Values
Our core values keep us grounded and focused on what matters most in our daily interactions with each other, our customers, and our communities. Our core values support our mission of Growth Powered by People by providing guideposts for reaching our fullest potential personally and professionally.

Corporate Responsibility & Sustainability
At Lithia & Driveway, we're constantly exploring new roads to amplify sustainability throughout our operations, at home, and in partnership with our communities. Our core values keep us focused on living and driving positive change for a carbon-neutral future. We know that our industry-leading position allows us to uniquely influence this change—especially as the automotive landscape shifts towards electrification and other potential sustainability mobility options. That's why we created GreenCars, the internet's one-stop resource on everything about buying, owning, and driving sustainable vehicles.

Nimble Leadership
The key to being a successful car dealership—regardless of size—is the ability to respond quickly to changing markets and evolving consumer desires. To do that well, stores need to be nimble in their daily operations. At Lithia & Driveway, one of our greatest dealership strengths is our decentralized business model. Our entrepreneurial-minded store leaders are "captains of their own ships" with the ability to pause, pivot, and pursue as needed.
Values
Earn Customers for Life

Create welcoming and trustworthy experiences for our customers.

To delight and excite consumers, we continue to focus on customer optionality and provide precise portrayals of our unique offerings. Every day, we adapt to our customer preferences and how they want to interact with us. In response, we are constantly extending the reach and appeal of the Lithia & Driveway network, enabling us to be more things to more people.

By making everything easier for our customers, we gain their trust and loyalty as we provide transportation solutions wherever, whenever, and however they desire. Execution of this customer-centric vision is what creates delineation from our competitors.

What matters most is how we make our customers feel. Whether on the lot, online, or on the phone, our aim is to make our customers feel welcome, respected, and valued.
Employees
20,800 US Employees