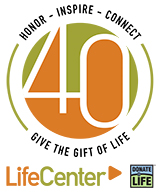 LifeCenter Organ Donor Network
LifeCenter Organ Donor Network
LifeCenter Organ Donor Network is the non-profit organization that works with all of the hospitals in Southwest Ohio, Northern Kentucky and Southeast Indiana to facilitate the recovery of organs and tissues for transplantation. As part of their mission to save, heal and change lives through organ, eye, and tissue donation, LifeCenter also provides donation outreach and education to empower more people to designate themselves as organ and tissue donors. LifeCenter is one of four federally designated organ procurement organizations in Ohio and one of 58 nationally.

LifeCenter is accredited and approved by:
Association for Organ Procurement Organizations (AOPO)
American Association of Tissue Banks (AATB),
Centers for Medicare and Medicaid Services (CMS)
Food and Drug Administration (FDA)
United Network of Organ Sharing (UNOS)
Purpose
LifeCenter Organ Donor Network works with all of the hospitals in the Tri-State area to facilitate organ and tissue donation. LifeCenter provides donation education and outreach throughout the 16 counties that it serves in Southwest Ohio, Northern Kentucky and Southeast Indiana to educate about the importance of donation and registering to be an organ and tissue donor.
Vision
Honor, Inspire, and Connect with our community until all in need receive the gift of donation.
Mission
To save, heal, and change lives through organ, eye, and tissue donation, while honoring those who gave.
Additional Culture Details
LifeCenter embraces Diversity, Equity and Inclusion and strives to have a community where individuals feel welcomed, respected and valued.
Values
Integrity

Be honest, trustworthy and ethical at all times