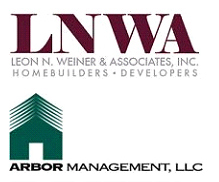 Leon N. Weiner & Associates, Inc. and Arbor Management, LLC
Leon N. Weiner & Associates, Inc. and Arbor Management, LLC
Since 1949, Leon N. Weiner & Associates (LNWA), a nationally recognized leader in affordable housing, has participated in the development of over 15,000 units of housing. LNWA has developed multifamily, single-family, homes in urban infill, suburban, and rural communities throughout Delaware, Maryland, the District of Columbia, Pennsylvania, New Jersey, New York, Connecticut, Ohio, Virginia, & West Virginia.

Honoring the legacy of founder Leon Weiner, LNWA continues its commitment to the development, construction, and management of decent, safe, and affordable housing. Through affiliated partnerships, this commitment is seen in almost 15,000 affordable homes in more than 10 states.

Arbor Management, LLC, a full-service property management company with over 30 years of experience, is responsible for the continued success of our apartment communities throughout the Mid-Atlantic and New England.

Through the combination of dedicated, professional management staff and the work of its social service coordinators, many with offices at properties managed by Arbor, the company aims to provide a high-quality living environment for its tenants by providing valuable social service programs at its sites.
Purpose
Many hands, One Vision.
Each division of LNWA works in concert with one another to create a reliable and proven development outcome. Whether you are our resident or our partner, the LNWA commitment remains the same: delivering and maintaining attractive, comfortable and affordable homes.
Vision
Building for a Better Tomorrow
requires a Strong Foundation.
LNWA is a mission-minded housing company. Based in Delaware and active in ten states and the District of Columbia, LNWA and its affiliates operate thousands of apartments that serve people of all income levels. We, as our founder was, are both builders and advocates of affordable housing.
Mission
Leon N. Weiner & Associates, Inc. is committed to upholding the legacy of it's founder and namesake whose work began over a half century ago. With passion and principle, Leon N. Weiner & Associates, Inc. and it's affiliated companies, Arbor Management, LLC, Renewal Housing Associates, LLC and Rural Housing Preservation are dedicated to the development, preservation and management of quality, affordable housing for all citizens. As an organization, we promote and imaginative, professional and ethical employee culture necessary to fulfill the enduring vision of Leon Weiner, a true champion for the cause of affordable housing in this country.