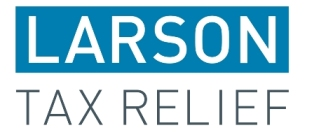 Larson Financial, Inc. (dba Larson Tax Relief)
Larson Financial, Inc. (dba Larson Tax Relief)
Larson Financial, Inc. is a family owned and operated tax resolution firm that was established in 2005 by brothers Jack and Ron Larson. After working more than a decade in the industry, the brothers were inspired to create their own organization that is dedicated to an environment of honesty, integrity, and exceptional customer service.
Since that beginning, Larson has been successfully building a team of trusted and experienced professionals to provide honest answers and real solutions that work for their clients. As a family owned business, the team at Larson understands that behind every client there is a real person that deserves the best service and representation available. Larson has helped over 10,000 individuals and businesses to resolve their tax liabilities in all 50 states. Our experience, knowledge, professionalism, and customer service are unmatched in the industry. Contact us locally at 303-554-0778 or nationwide at 888-589-0955.
Mission
"Larson Financial exists to provide its clients with the finest quality work and customer service in the tax resolution industry, delivered by a knowledgeable, compassionate, honest team of professionals."
Additional Culture Details
In 2014, we implemented a Positive Psychology training forum for employees in which a book by Harvard Psychologist Shawn Achor ("Before Happiness") was taught in detail. The premise is that a happy person is more likely to succeed in their personal and professional lives. Our society has been taught that if you are successful in life, then you will be happy. LFI's culture, trainings, and management styles emphasize the contrary. If you are happy, you will be successful; if you are able to see the positive in any situation, you will have the tools and outlook necessary in building a foundation for being a happy individual at work and home. Consequently, you will experience success in both areas. We continue to discuss the importance of planning routes to success and not 'escape routes' as being the most productive behavior for personal and professional growth and achievement. These trainings and subsequent change in company culture have been a "game changer" for our participating employees. It has played a huge role in encouraging our employees to take initiative, show excitement about their work, and has elevated the quality of our customer service. Ownership continues to shape meetings, conversations, and company contests around the power of positive psychology. We have witnessed, first-hand, a very positive bi-product of our employees being able to see the world in a different, more positive light.