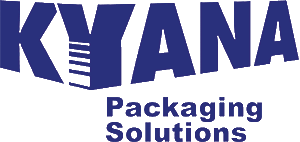 Kyana Packaging Solutions
Kyana Packaging Solutions
Kyana Packaging Solutions is the market leader for smart solutions in package design and productivity improvements. We accomplish this through our iPAR ® process, which is based upon collaboration between our customers and our team.

Our iPAR ® Process is rooted in packaging line and production line automation, but we find that our solutions reach much further than this. Our ideas help customers achieve sustainability objectives, deal with labor challenges, and increase customer satisfaction/retention. All of which increase our customer's financial performance.

At Kyana Packaging Solutions, we take pride in remaining on the leading edge of technology to better serve our customers. We deliver innovative ideas to our customers, always keeping them apprised of new technologies that will improve their operations.

Kyana Packaging Solutions is proud to be a certified woman owned and operated business.
Purpose
Kyana Packaging Solutions stands out from traditional competitors by having a team that focuses on innovative smart solutions in package design. While most competitors focus on a lesser per piece price, our designs offer solutions that will not only lower unit costs, but improve productivity, reduce operational expenses, and ensure your product arrives in 'as made' condition. Thinking inside of the box is the first step in reducing waste of material, time, money and effort. But boxes are only the beginning; any packaging need, no matter the size or shape, is a welcomed challenge for our imaginative team of packaging experts. At Kyana we want your business, but not at the expense of your business. If we can't do the job for you, we'll recommend someone who can. Solutions are only part of what we offer. After an experience with Kyana, we hope words like integrity, quality and service, are the first to come to mind.
Vision
Kyana Packaging Solutions is the market leader for smart solutions in package design and productivity improvements. Curiosity, integrity, excellence, and a heart of service are among the qualities we value in our employees. The customer experience starts with our employees.
Mission
Kyana Packaging Solutions endeavors to be a destination company. We continually and consciously, adapt to meet changes in culture, technology, and business trends so that we attract and retain the best customers, the best employees and the best vendors. In the Information Age it is more important than ever to ensure, as we change, we maintain our core values of integrity, excellence and service.
Additional Culture Details
The word 'family', in describing culture, has become almost a cliché' these days, but we are a family-owned business. We want our employees to feel every day, like the important part of the Kyana family they are. If they are in need, have joy to share, or worries to unload, they know they can count on their Kyana family to give, listen, sympathize or encourage. Coming to work, when lives are so complicated and hurried, can be a huge stressor. We understand that stress. We work to provide a space of respect, fun and encouragement. Our E.A.T (Employee Appreciation Team) squad ensures we devote time to fellowship, fun, food and friendly competition. We believe happy employees are dedicated employees, who take pride in their work and their workplace.
Company Snapshots