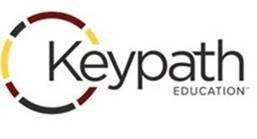 Keypath Education
Keypath Education
"Keypath Education's mission is enabling online education for the world's best universities. Keypath Education is dedicated to creating global access to online education. We do this by enabling the world's best universities to launch and grow quality online degree programs. We are driven by the belief that higher education is transformative, and the online experience expands access, regardless of a student's geographic location." We have students from over 40 countries attending a degree program at one of our partner schools without ever stepping on campus.

Since founding the company in 2014, Keypath has experienced transformative growth but has always placed a strong emphasis on culture. We refer to one another as Keypath-ers because we are a family. We use our core values as the foundation for our success. We designated our core values as 'being committed,' 'being inventive,' 'being collaborative,' and 'being lifelong learners.' We honor these values by promoting creativity, independent-thinking, and global collaboration. Keypath-ers are keenly aware of how to create the path for success - together.
Purpose
For the world's leading universities who want to deliver career-relevant education to more professionals, Keypath Education provides a market-led & tech-focused online education solution. We set ourselves apart from other providers thanks to our global team of education experts who provide us with a breadth of diversity and data, which allows us to respond quickly to the "Future of Work" trends. We have an unwavering commitment to the student experience, an unrivalled desire to innovate, and a drive to leave a positive mark on the world.
Vision
Design and deliver the most career-relevant online programs with the world's leading universities.
Mission
Educate professionals to transform their world.
Additional Culture Details
OUR MANTRA: Be Bold and Do Meaningful Work

​We act courageously. We know the value we bring, and we bring it. We drive to produce meaningful work and results because we are passionate about making a difference by creating global access to online education.
Values
Be committed, Be inventive, Be collaborative, Be a lifelong learner

Our people & culture:
We are an international team of experienced education experts who embody our values of collaboration, commitment, inventiveness, and lifelong learning in our bold and unwavering pursuit of success for our partners and their students.
Our global perspective:
Our global experience and network give us a breadth of diversity and data, allowing us to respond to "Future of Work" trends quickly.
Our commitment to a superb student experience:
Working collaboratively with our university partners, we put the student at the center of the experience, never compromising on academic quality.
Our desire to innovate:
Never satisfied with the status quo, we invest in technology and data to continuously enhance the overall student experience and extend the reach of our university partners.
Our drive to create social impact:
We are driven by a desire to leave a mark. We accomplish this through our partnerships and purposefully designed programs that deliver real-world skills that can solve global and social challenges. We do this through our culture – the embodiment of diversity, inclusion, and care for our community and the environment.
Company Snapshots