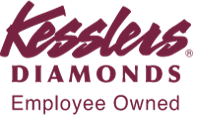 Kesslers Diamond Center, Inc.
Kesslers Diamond Center, Inc.
At Kesslers, "We do diamonds better because diamonds are all we do"! Kesslers has a fun easy going atmosphere where we offer fair and honest bottom-line pricing every day. Don't wait for a sale because there isn't going to be one, we don't mark things up just to mark them on sale! Kesslers has the largest selection of loose diamonds and diamond engagement rings in the Midwest. Every loose diamond is hand selected for exceptional beauty and when paired with the perfect setting, becomes an enduring symbol of your love! If you don't see what you're looking for in store, you can design a custom piece of jewelry that showcases your individual style. Every piece of jewelry sold at Kesslers is backed by our Miraculous No Small Print Warranty which includes a lifetime of free maintenance on your jewelry. Kesslers is a local and employee owned business that cares about our clients and gives back to the community. Stop in for a coffee and chat with us, you might find something you like.
Purpose
To build long term mutually beneficial relationships with our clients, vendors and Employee-owners.
Vision
To be the most loved and respected name in diamonds, period.
Mission
We are dedicated and committed to totally satisfying the needs of our clients based on integrity.
Additional Culture Details
Kesslers is 100% employee owned. This means we have an ownership culture, where trust, teamwork, mutual accountability, responsibility, cooperation, respect, empowerment, and transparency are practiced and prioritized. At Kesslers we are all about the importance of culture and how building relationships enhances where we work. As employee-owners we know that when we trust and respect one another, we can work more effectively across functions to achieve higher performance.

We believe that "The 7-Habits of Highly Effective People" is a wonderful foundation for how we communicate and treat ourselves and each other. Through on-going teaching and applied learnings we develop and become the best version of ourselves.

Each day as we arrive to work and walk through the door, we have a sense of ownership pride; we have the responsibility to truly care about the person next to you achieving excellence and the people coming behind us reaching even further than those before them. We care about how each of the stores are doing and we share best practices across the organization. It's the best way of doing business and a camaraderie that is perfect for Kesslers' culture.
Values
Core Value Statement

To build long term mutually beneficial relationships with our clients, vendors and Employee-owners.
Company Snapshots