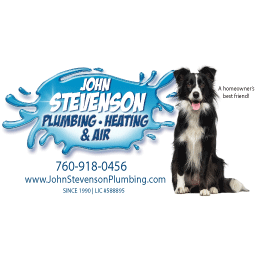 John Stevenson Plumbing, Heating & Air
John Stevenson Plumbing, Heating & Air
A Homeowner's Best Friend! For over 30 years, John Stevenson Plumbing, Heating & Air has been the trusted home service expert in Carlsbad and serving all of San Diego North County. We offer a full line of home plumbing repair & install services, including kitchen & bathroom plumbing repair, water heater repair & install, and general plumbing services. John Stevenson is proud to be your trusted local drain clearing, rooter & sewer line repair & install company. We also offer a full line of home heating & cooling services. Whether you need top-rated heating repair & install or professional air conditioning repair & replacement, we have your back. We are committed to advanced technician training and education, customer service excellence, and operate based on our 5 core values and 5 Star Service Guarantee. From drains repairs to new A/C installation, we are the trusted name for all your home service needs!
Purpose
Our core focus is to solve our customers' problems with care and education -- we are passionate about the health and safety of our community through high quality plumbing, drains, and HVAC services.
Mission
Our mission is to service our customers and community with ethics, integrity, and honest solutions.

Time: We address your needs on a timely basis, and we do the work efficiently.
Trust: Our employees are thoroughly vetted, so you can trust and rely upon them and we give upfront pricing. (Staff is fully licensed, bonded, insured, background checked.)
Knowledgeable: We offer a full spectrum of solutions that give our clients options that fit their needs, while solving their problem.
Healthy: We deliver healthy & safe water and air quality solutions.
Values
We Are A Brotherhood Of Craftsman

We work together to elevate our trade and learn from one another.
Company Snapshots