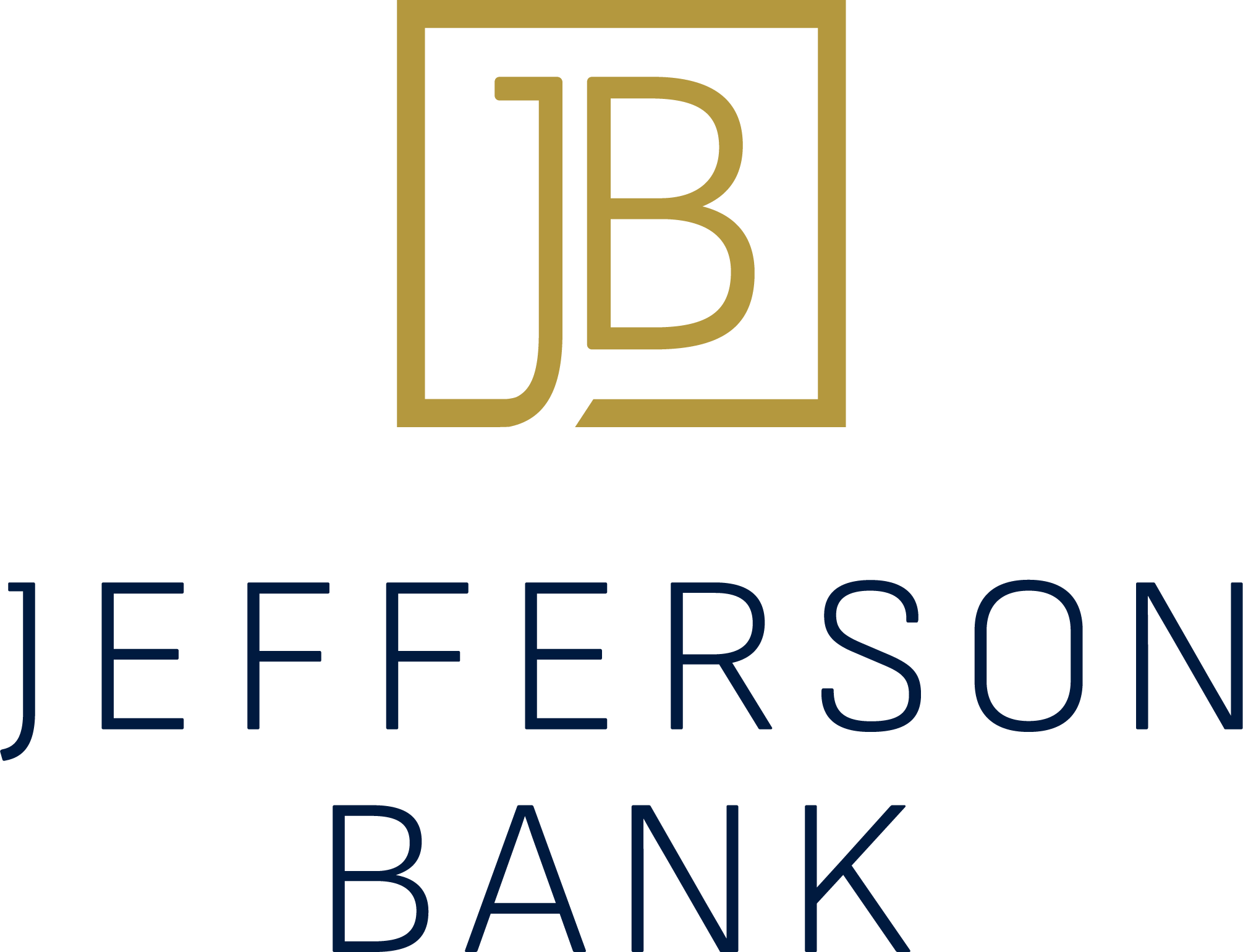 Jefferson Bank
Jefferson Bank
There are five words the team members at Jefferson Bank live by everyday: "This is personal to us." It's more than a marketing line. It signifies an ongoing commitment to
delivering the style of banking our customers expect and appreciate; personal, straightforward, delivered with honesty and integrity. A bank's inventory is dollars. It's a commodity. What difference does it make if someone borrows money from Bank A or Bank B? The difference is the people, the
attitude, the feeling you get when you walk into the place. Do they know your name? Do they love what they do? Do they truly care about your business? At Jefferson Bank, we can honestly say the answer is yes.
Purpose
At Jefferson Bank, we believe financial stability is essential to personal fulfillment. Our purpose is to provide our customers with the resources to accomplish that goal, while striving to elevate communities, ignite growth, and spur opportunities.
Vision
To utilize developing technology to enhance the personalized service Jefferson Bank has consistently provided to our customers.
Mission
Earning long term relationships every day through integrity, responsiveness, and commitment. This is personal to us.
Additional Culture Details
Our people are our greatest asset. Over 25 percent of our employees have worked here for 15 years or more. We feel like this is a direct reflection of our philosophy and our actions toward cultivating a workplace where everyone is supported and feels the encouragement to grow in their careers and their personal lives.
We're dedicated to:
· Creating Programs and services that put an emphasis on employees' personal growth
· Increasing our commitment to serving the community
· Creating a positive, friendly, and collaborative workplace
Values
This is personal to us.

Jefferson Bank has been a strong part of the banking community for 75 years. We remain independent, locally-owned, and structured to deliver quality banking services to businesses and individuals for years to come. Our goal will always be to continually exceed our customers' expectations, because this is personal to us.
Headquarters
San Antonio, TX
Employees
372 US Employees
We're Hiring!
Company Snapshots