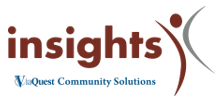 Insights/ViaQuest Community Solutions
Insights/ViaQuest Community Solutions
Insights/ViaQuest Community Solutions is an agency that supports individuals of all ages who have intellectual and developmental disabilities, traumatic brain injury and autism spectrum disorders. We collaborate with individuals, their staff, their friends and their families. Insights/VCS provides these supports to people across many different environments such as: their own homes, in their family's homes, in school settings, or anywhere the individuals need support to be successful in their community. Approximately 70% of our clients are dually diagnosed and are challenged with psychiatric and or behavioral symptoms as well. We provide supports to over 1200 individuals who are successfully living throughout the state of Indiana.
Purpose
To change lives/Helping people live their best life
Vision
To empower positive life change by serving with honesty, respect, and dignity. We seek to be innovative and to continue being the provider of CHOICE in our industry and in our community.
Mission
Insights/VCS is supporting people, empowering change, and living our best life. We believe that success comes in focusing on what a person CAN do, not what they cannot do; we are focused on capabilities not disabilities.
Additional Culture Details
Our foundation is built on a true desire to empower people toward positive life change. Everyone deserves the opportunity to live their best possible life. In that, our culture extends beyond supporting clients with intellectual disabilities. We believe by encouraging others, we invite life change for ourselves. As an employer – we want to support our employees toward their best lives too. Our culture is very much about encouraging every person to seek balance in their lives, to be uniquely individual, and to strive to be the best version of themselves possible.
Values
Insights values ALL people

Insights/VCS values ALL people. We find the amazing in our employees as well as the individuals we support and build on that so everyone can experience a greater quality of life together!
Company Snapshots