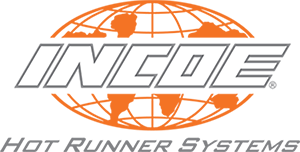 INCOE Corporation
INCOE Corporation
Founded in 1958, INCOE® Corporation designs and manufactures hot runner systems with exceptional performance for processing of all injection moldable plastic materials. As a pioneer in the plastics industry, our original patented design was the first commercial hot runner nozzle available. The development and use of hot runner systems has led to the advancement of injection molding in productivity and cost savings on a global basis.

INCOE manufacturing facilities are strategically located in North America, Europe, Asia and South America. INCOE products are supported directly through a network of technical representatives in over 45 countries. Wherever you are, you can rely on INCOE staff and expertise to support your projects from start to finish.
Purpose
INCOE has a rich history of pioneering the advancement of plastics processing in hot runner technology. Starting out in 1958 as INjection COntrol Engineering in the United States, INCOE Corporation has developed hot runner technology for injection molded plastic applications in virtually every market around the world.

A global company that is 100% family owned and operated, founder Mr. Alex Seres, set the benchmark for developing products that add value and ease of use; always with customer productivity and customer service in mind. INCOE's development of the first commercial hot runner nozzle expanded the use of plastics by increasing process efficiencies from material savings and cycle time. This then new technology opened the door for design engineers as they moved to replace heavy metal cast parts for example, with lighter weight plastics.

Of particular relevance today is that environmentally, the use of hot runner technology eliminates material scrap destined for landfill as well as reducing power consumption.
Vision
To be the preferred global partner in hot runner solutions delivering value to customers by INCOE's inspired and dedicated people.
Mission
Our mission is to:

- Provide Hot Runner systems, accessories, and services that offer the best lifetime value and satisfaction for our customers around the world

- Operate in a manner which is professional, fair, and cooperative in every area of our organization so that our customers and suppliers are eager to conduct business with us

- Employ honest qualified professionals, treat them fairly and with respect, and empower them to continually improve our processes and products with a spirit of innovation, so that they are eager to represent INCOE

- Attain a fair level of profitability and growth to achieve long term sustainability of the organization, for the benefit of our customers, employees, and family ownership
Values
Integrity

Integrity has been a fundamental operating principle of INCOE since its founding in 1958. To continue this tradition of operating with integrity, INCOE and its employees remain committed to conducting ourselves in a manner that is professional, fair, honest, and respectful toward everyone we interact with. We believe that there is never a right way to do a wrong thing.
Company Snapshots