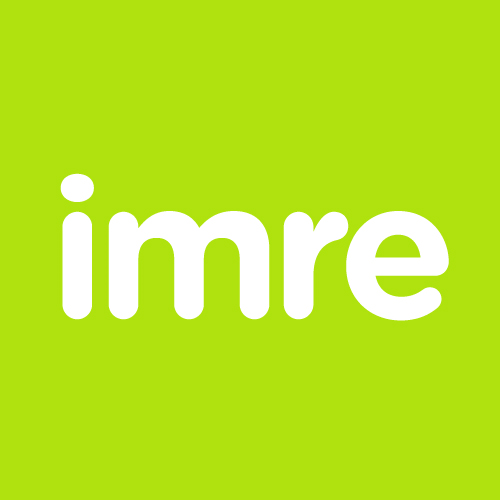 IMRE
IMRE
Empathy and optimism are the twin values that power imre, an agency that works. We are a passionate team of creative, digital, social and PR experts who build strategy-led Orchestrated Ideas for the world's best loved brands. imre is made up of 157 employees and has offices in New York, Baltimore, Los Angeles and Philadelphia. We are a fiercely independent agency and certified LGBTQ-owned diverse supplier.
Purpose
Optimism and Empathy are the twin values that power an agency that works. Our team of brand strategists, account planners, activation experts, artists, writers, producers, directors, and analysts work seamlessly to craft breakthrough orchestrated ideas.

Each project is led by an arsenal of subject matter experts, constantly collaborating to deliver results and make believers. So, what do we do best? Here are the three types of programs we create most often to drive our client's business: Launch, Brand Building/Rebranding & Customer Experiences.
Vision
imre – an agency that works. We believe the work speaks for itself. Great work begets great results. We throw our everything into everything. Whether it's the best strategies and insights, tireless creative that's pixel-perfect, or authentic experiences that actually get results, we know that if we work at it hard enough and long enough, we will find the right solution.

We work hard because you work hard. Our clients include AstraZeneca, AMAG Pharmaceuticals, Dickies, John Deere, Kwikset, MLS, NFL, Pfizer, Patagonia, Pepsico, STIHL, T. Rowe Price, Travelers, Toyota, Under Armour, USTA and others. We have offices in New York City, Los Angeles and Baltimore.
Mission
Welcome to the fiercely independent marketing agency that creates purpose driven ideas that work. We transform brand and customer relationships, creative ideas and approaches, and the way our clients work. We aspire to and work with big brands, consumer brands.
Additional Culture Details
Our culture is deeply rooted in our CEO, Dave Imre's, appreciation for the golden rule; treat others how you want to be treated. We aren't an agency where an oil painting of our founder hangs in the lobby or where the partners are figureheads who only come into the office to impress a large client. Employees at every level have the opportunity to build a relationship with our leaders because they make themselves available. Their doors are open, they are in the kitchen making their own coffee, talking about last night's game and asking about your weekend. They're swinging by your office to say thank you for your work on a project no matter how much it billed. Our culture is special because of their ability to lead alongside of you. They worked their way up in the industry and they appreciate every aspect of what keeps the lights on. Every month we have an agency wide meeting where the leaders of each department highlight the work that they have accomplished. Employees have the chance to really showcase what they have been working on and how it is helping our clients. Every month this meeting is kicked off with our CFO walking us through the company's earnings. This transparency is why our culture is so successful. We feel like we are all part of a team and moving towards the same goal.

As an agency, our goal is to create an environment where all different kinds of people can thrive and succeed. We have a specific group dedicated to Diversity and Inclusion at imre, helping to make all employees feel comfortable bringing their authentic selves to work every day. Throughout the year, we welcome and celebrate all the unique cultures that make up imre. Whether it's an employee panel during Pride Month, an external speaker for Black History Month, a Lunch-less Learn session during Ramadan or a LinkedIn Thought-Leadership series for International Women's Month, we allow employees to share their cultures, backgrounds and beliefs so we can all learn from one another. We take pride in knitting together the fabrics of our own lives into a beautiful mosaic of human beings, growing smarter and stronger together.

Company Snapshots