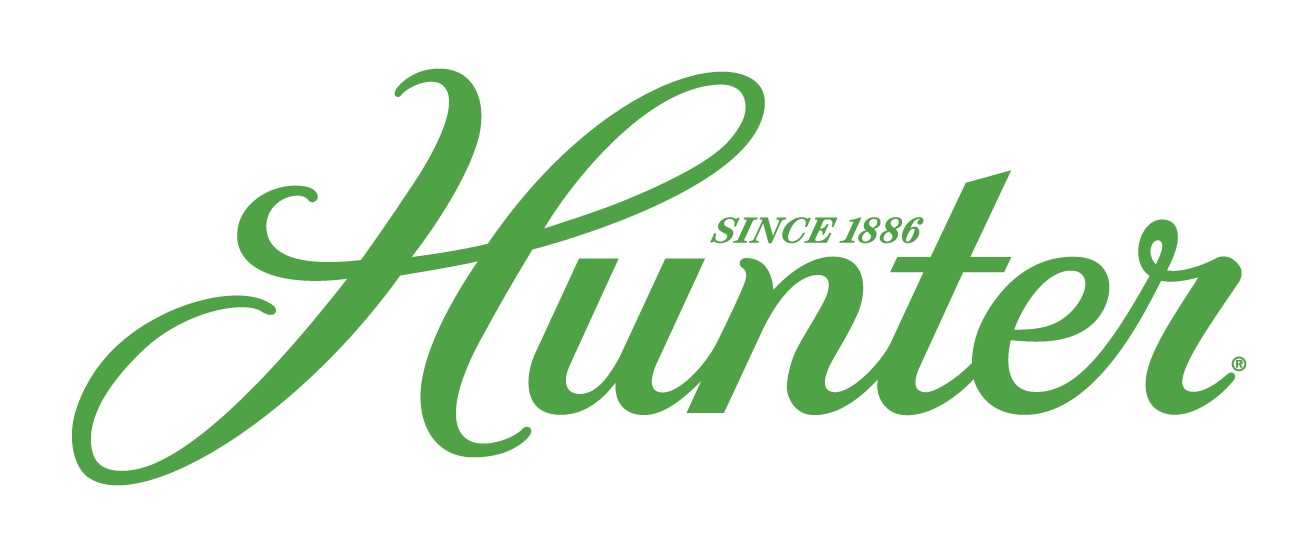 The Hunter Fan Company
The Hunter Fan Company
Hunter Fan is an organization with a story that stretches across the turn of two centuries, two world wars and the Great Depression. The company traces its origins back to 1886, when John Hunter and son James C. Hunter created the first water-driven ceiling fan in upstate New York.
Before long, Hunter Fan Company was shipping these rugged fans with hand-weighted and balanced blades by the boatload to India, the Far East and Africa as well as across the United States.

Today, we continue to combine 19th century craftsmanship with innovative design and technology to create air-movement products of unmatched quality, style and whisper-quiet performance. Products that are as tough on the inside as they are beautiful on the outside. Products that John and James Hunter would still be proud of more than 120 years later.
Purpose
Keeping homes 'Quietly Cool since 1886', Hunter Fan Company is the world's original ceiling fan manufacturer. As the #1 most installed ceiling fan for over 130 years, Hunter continues to provide a deep heritage of performance, comfort and everyday style for any room, giving consumers confidence, peace-of-mind and ultimately more control over their home environment. The Memphis-based brand offers an array of beautiful and thoughtfully crafted designs, from rustic and contemporary to classic and retro statement pieces. In addition, the brand has recently debuted a variety of proprietary technologies, truly differentiating the brand within the industry – from their exclusive line of WiFi®-enabled SIMPLEconnect® fans, which are compatible with Apple HomeKit, Google Assistant and Amazon Alexa to the brand's SureSpeed® Guarantee which sets the standard for optimum airflow performance. As an industry-leader, Hunter's cutting-edge design and quality craftsmanship continues to bring unmatched performance into every space. Hunter ceiling fans are available on Hunterfan.com, as well as in lighting showrooms, home centers and online retailers nationwide.
Additional Culture Details
At Hunter Fan Company, our most valuable resource is our people.

Our culture encourages employees to share ideas with one another, collaborate across the organization, take personal ownership and challenge the status quo through brainstorming, feedback and innovation.

Our culture motivates employees to be highly adaptive, responding to opportunities and changing conditions to maintain and enhance our market leadership. We work as a team to ensure our employees, customers and consumers are successful.

Our culture fosters a work-life balance. We believe fun should be a part of everything we do.

Our culture is supported by our behaviors....
Values
Collaboration

Work as a real team. Collaborate with each other, our customers and our partners to find the best solutions. Don't argue over who is right. Discuss what is right. Collaboration generates better ideas than individuals working alone.