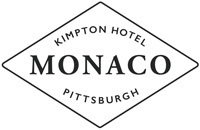 Kimpton Hotel Monaco Pittsburgh
Kimpton Hotel Monaco Pittsburgh
Kimpton's Hotel Monaco Pittsburgh is a boutique hotel located in the downtown area. Hotel Monaco takes pride in making travelers feel genuinely cared for through thoughtful perks and amenities, bold, playful design and sincerely personal guest service. Touches like yoga mats in every room, complimentary coffee and tea, hosted evening Wine Hour, in-room fitness programming and complimentary bike rentals are all available to make us a true home away from home. Adjacent is The Commoner, a locally-inspired New American restaurant that works in harmony with the hotel, providing their chef-driven cuisine for in room dining, meetings, and events.
Mission
To be the best-loved boutique hotel and restaurant company by our employees, guests, owners and communities and genuinely support our co-workers, provide heartfelt care and comfort to our guests, and deliver superior financial returns to our investors.
Additional Culture Details
Our Culture Statement : A unanimous commitment to self-leadership, creativity and high performance through team and personal development.

Culture is our Edge. Guests feel it; you'll feel it, too.

At Kimpton, we promise guests "A Different Way To Stay." We know that means we have to be a different, and better, place to work. You quickly learn Kimpton's not just a hospitality job. Here, you'll join a mission to make lives better. No biggie.

The real you is a job requirement; your diverse background, talents, and quirks are what help our company connect meaningfully with our guests. You'll lead your own personal career path while you help make each guest's journey feel more personal. You won't just punch a clock and count the hours; you'll make it count.

That's why FORTUNE magazine has put Kimpton on its "Best Companies To Work For" list seven times. It's why we scored 100 on the Human Rights Campaign Foundation's Corporate Equality Index. Even our guests feel it—it's why we're consistently ranked as the best-loved hospitality company.

Our thriving company culture, numerous hospitality career tracks, and rich benefits and perks also make us one of the best places to work. We take care of all of our people with great benefits, like paid time off; medical, dental, and vision plans; life, short-term, and long-term disability insurance; 401(k) with employer matching; 6 weeks paid paternity/maternity leave; back-up child and elder care; robust professional and personal development through our own Kimpton University; and employee discounts at our 60+ hotels nationwide. Plus, we throw in some extra Kimpton-style perks, like wellness programs and, of course, pet insurance.

We're A Different Way to Stay because we're a better place to work. From the first whirl of a hula hoop at your employee orientation (yes, it happens) to every Kimpton Moment thereafter, you're going to love it here as much as our guests do.


Values
Be Yourself.

Who you are is who we are. So bring the real you. The best and ever-improving version of you. Bring your background, your personality, your individuality, your creativity. It's those just-you qualities that make it more personal for you, and our guests.