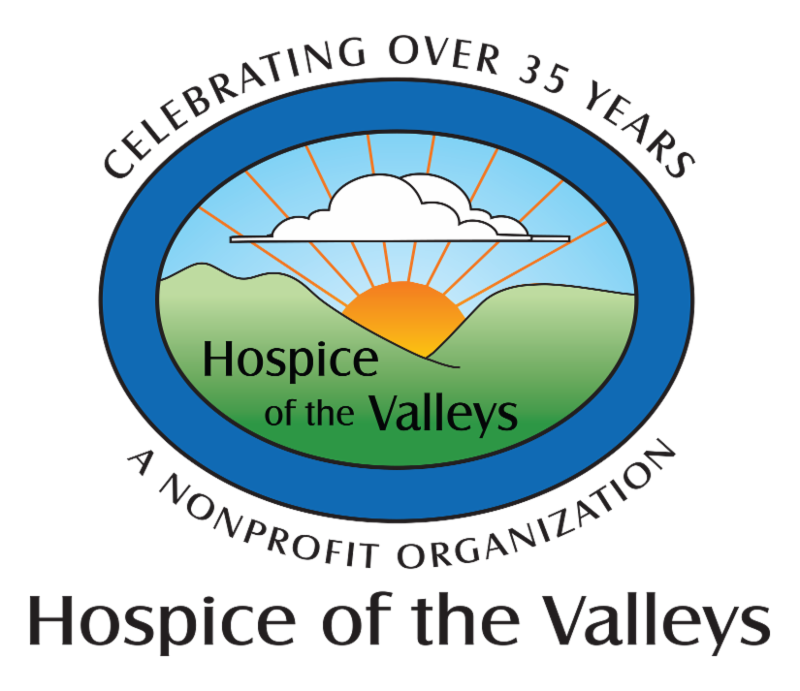 Hospice Of The Valleys
Hospice Of The Valleys
For the last 40 years, Hospice of the Valleys' primary focus has been to provide compassionate hospice care to our terminally-ill patients and their families. We are also a committed community resource by providing free, public support groups to not only our patients' families, but to the community at large.

Our care includes patient visits wherever our patients call home. This could be a private residence or medical facility. We also provide guidance and support to our patients' families. We answer all the questions that arise at such a difficult and confusing time, we offer grief support and resources for children who may be affected by the patient's imminent death.
Purpose
Hospice of the Valleys began in early 1982 by two sisters in Sun City, California who recognized the need for specialized end-of-life care for people in their community. In order to make this care available, these sisters received hospice training as volunteers and began going door-to-door raising money on their patients' behalf. After years as a volunteer-run organization, Hospice of the Valleys eventually became a full-service, nonprofit 501(c)(3) organization.

Today, Hospice of the Valleys employs a team of experienced clinicians and administrative professionals, and continues to have a group of dedicated volunteers who touch the lives of our patients each and every day. After more than 30 years of caring for hospice patients living in Southwest Riverside County and Fallbrook, Hospice of the Valleys remains committed to the mission of its founders by providing loving hospice care to all who need it, regardless of their ability to pay.
Vision
To be a recognized leader of excellence in comprehensive end-of-life care.
Mission
We foster reverence for life, relief of suffering, and compassion in loss for the terminally ill residents and their families in the communities we serve.
Additional Culture Details
Hospice of the Valleys is honored to celebrate nearly 40 years of serving our community. Through the support of the community, we have established a long standing tradition of providing loving care to people with life-threatening illnesses. We believe no one should die alone or in pain, and have made it our mission to care for all hospice patients in our area, regardless of their ability to pay.

Caring for a hospice patient can be very overwhelming. Our experienced and caring team can help allay your fears and offer you the guidance you need. We promise to treat our patients and their families with dignity and respect.

As the only nonprofit hospice organization headquartered in the Temecula Valley, Hospice of the Valleys is here for you as a resource, and to comfort and care for area residents with life-threatening illnesses.

Hospice of the Valleys is a proud member of the National Hospice and Palliative Care Organization and the California Hospice and Palliative Care Association.

Hospice of the Valleys is accredited by Community Health Accreditation Partner (CHAP).

Hospice of the Valleys is proud to have received Top Workplace every year since 2014. Additionally, Hospice of the Valleys was named a 2021 Hospice Honors Elite recipient – the only Hospice Honors Elite recipient in the state of California.
Values
We seek to embody the hospice philosophy in all we do, including: the affirmation of life, promotion of self-determination, education, understanding, and acceptance.