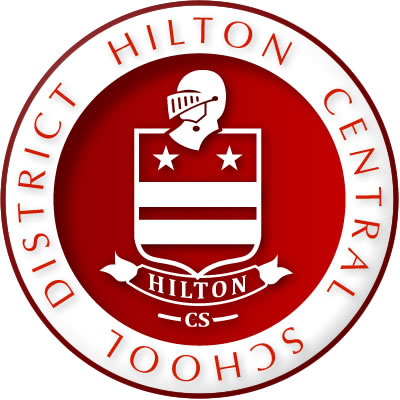 Hilton Central School District
Hilton Central School District
Hilton Central School District is a comprehensive Pre-K Grade 12 Public Education School System.
Purpose
Our purpose is to provide quality educational opportunities to our entire community, specifically the Pre-K through Grade 12 student populatoins. To do so, we believe learning requires active, productive and meaningful student and educator engagement; that individuals learn best through their strengths in a variety of ways and in different learning environments; that individuals learn best when empowerment, freedom, fun and a sense of belonging are an integral part of the learning environments; in valuing diversity and treating one another with honesty, dignity and respect; that parents, students, teachers and community share the responsibility for student achievement.
Vision
Our Schools are the heart of our community. Through innovation and discovery, we foster purposeful learning, use of resources and leadership. Our learners strive for excellence in all aspects of life.
Mission
The Hilton Central School District is committed to educating each student for success academically, physically, emotionally, and socially. We develop self-directed, life-long learners who think critically and creatively and function as caring, responsible, productive citizens. We accomplish this by attracting and inspiring high quality educators, administrators and staff, and involving parents, volunteers and community members.
Additional Culture Details
For the past 12 years, the Hilton School District has joined forces with the Village of Hilton and Town of Parma to participate in Make a Difference Day on the last Saturday in October. Teams of students, staff, teachers and community members come together to make the community a better place by rolling up their sleeves and pitching in on a variety of projects throughout the area.
Hilton's Community Education program fosters a connected learning community in the Hilton CSD and serves the lifelong learner.
As part of the districtwide International Baccalaureate Programme, students participate in a variety of community service projects at every grade level.
In May, the Hilton Central Schools Teachers Association (HCSTA) participates in Teacher Care Day during which teachers gather on a Saturday morning to do projects throughout the community.