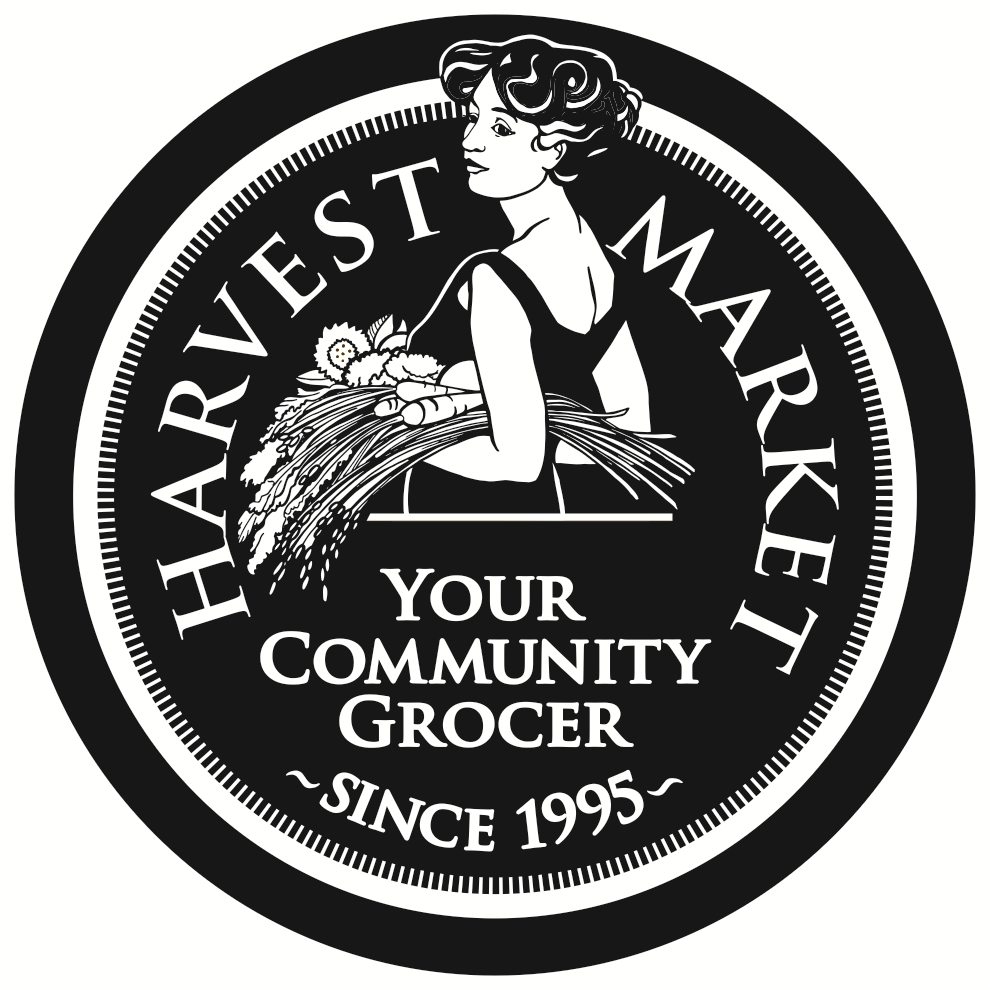 Harvest Market
Harvest Market
Harvest Market was founded in 1995 to provide Hockessin and the surrounding communities with a broad selection of wholesome and nourishing foods, nutritional supplements and related products. Now in our third location, we have expanded to offer one of the region's best selections of natural foods—or what our great-grandparents simply called "food". In 2013, we opened the Harvest Market Kitchen which produces a variety of grab-and-go soups, salads, sandwiches, sides, sweets and more—all made from scratch with the same high quality ingredients that we sell in the rest of our store.

Harvest Market's product guidelines are strict. Like many independently owned natural foods stores we do not sell foods with artificial colors, flavors or preservatives. Our emphasis has always been to stock the broadest selection of organically grown foods. Locally produced and Fair Trade products are likewise important to us.
Purpose
We sell and prepare food that is vibrant, delicious and joyful. We promote sustainable products for our bodies and our homes. We invest in our community and organizations that reflect our commitment to organic farming and sustainability. We foster a workplace where we treat one another with kindness, respect and an instinct to collaborate and grow.
Vision
Our vision is to be a welcoming place for all people to access healthy food while providing excellent customer service. As a trusted member of the community we have created a place where people can work and shop to be a part of something bigger. We do not just "sell stuff." We have purpose.
    
Harvest Market was founded in 1995 to provide Hockessin, Delaware, and the surrounding communities with a broad selection of wholesome and nourishing foods, nutritional supplements and personal care products.

In 2013, we created the Harvest Market Kitchen, where we create award-winning soups, salads, sandwiches, sides and desserts using the highest quality ingredients. After a recent renovation, our kitchen was awarded a 3-Star rating by the Green Restaurant Association in recognition of our commitment to sustainability. We continually challenge ourselves to offer the region's best selection of organically grown, fairly traded and locally made products.
Mission
Harvest Market provides our community with the highest quality, most nourishing foods and related products available while conducting our business in socially responsible ways that are both sustainable and rewarding for our customers, our employees, our producers and our environment.
Additional Culture Details
Harvest Market is a place that values who you are just as much as what you can do. We strive to create a workplace that is inclusive, supportive, safe and healthy. We nurture a sense of personal and community development inside and outside our store walls. Additionally, we are the proud recipient of Best of Delaware 2021 for Best Health Food Market, Editor's Pick.
Values
Respect, Diversity, Caring, Stewardship

Harvest Market is an Equal Opportunity Employer; we purposefully create an inclusive workplace that honors a diversity of food, lifestyle and wellness cultures. Our leadership team is mostly women, and our kitchen draws inspiration from a truly global team of cooks. Beyond hiring people of color, members of the LGBTQ+ community, and people of all ages and abilities, we have also increased our efforts to introduce and feature products from companies owned by members of underrepresented and minority groups. As with all initiatives, we are always learning and continue to be open to new ideas and more equitable ways of doing business.