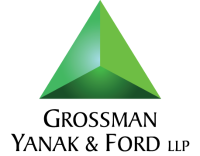 Grossman Yanak & Ford LLP
Grossman Yanak & Ford LLP
Founded in 1990, Grossman Yanak & Ford LLP (GYF) is a regional certified public accounting and consulting firm headquartered in Pittsburgh, Pennsylvania. Grossman Yanak & Ford LLP offers a diversity of resources and services built on a foundation of three traditional accounting disciplines – assurance, tax and consulting. Combining diverse technical skills with extensive "hands-on" experience, our professionals address varied and complex issues for clients on a daily basis. We pride ourselves on bringing value-added resolution to these issues in a progressive and innovative manner. The firm provides the following professional services: assurance and advisory, tax planning and compliance, business valuation and litigation support, ERP solutions, and management and business consulting.
Purpose
At GYF, we have created a culture where we can be proud of what we do and, just as importantly, enjoy our time at work. We work collaboratively to support each other and to best serve our clients as valued advisors.

We use our professional and technical expertise in accounting, tax and business to attract, delight and retain clients. We provide them with confidence that they will receive timely and accurate service and insightful advice, delivered with respect for them and their team.
Vision
We know that a firm is much more than its bottom line. Character, integrity and a solid business reputation are true measures of an organization. With that in mind, at GYF, we believe that our people are our most valuable asset, and we want them to be able to maintain a healthy balance between their personal and professional lives.

Throughout our firm's history, GYF has been extremely successful in maintaining our staff by offering a competitive compensation package, a variety of opportunities for professional and personal growth and the flexibility needed to achieve life goals. Our personnel are also encouraged to contribute to the community and develop their own leadership skills through involvement in not-for-profit groups.
Mission
Our firm was founded in 1990, based on the idea that the keys to providing proactive accounting assistance are a true commitment to developing lasting relationships with our clients and a dedication to providing a high level of service.

We believe that "quality you deserve" is driven by seasoned professionals providing exceptional service on a continuing basis, for a reasonable price. We focus on hiring talented professionals and maintaining service team continuity to enable us to deliver this high caliber of service to our clients.
Additional Culture Details
GYF is all about you – developing personally and professionally; achieving your lifelong goals; meeting your expectations; and making your own choices. Whether you just graduated from college or you are an experienced professional, you can build a successful career at GYF.

Your interests and talents dictate how you'll grow with us. The services required by our clients are as varied as the opportunities they present for professional growth and your personal satisfaction. Our employees play an integral role in our success as a firm and our continued growth over three decades is a testament to the dedication and talent of our professionals.
Values
Balance & Flexibility

Our firm has always focused on work-life balance and will continue to prioritize this opportunity to allow our staff to meet their personal and professional goals. GYF personnel lead rich lives outside of the office. They are busy with family and school activities, earning advanced degrees and certifications, serving their churches and other community groups, coaching and playing on sports teams and pursuing personal hobbies and interests.

Some of the ways GYF accommodates the time our professionals need for these important endeavors include: paid vacation, sick and holiday time; paid overtime for hours worked beyond standard schedule; limited overtime requirements and out-of-town travel; flexible schedules and work-from-home capability.
Company Snapshots