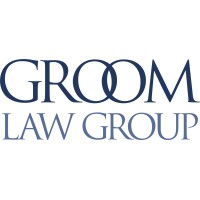 Groom Law Group, Chartered
Groom Law Group, Chartered
Groom Law Group, Chartered ("Groom") is a nationally ranked law firm that solves complicated benefits, health, and retirement legal issues for a variety of clients. In a world that moves as swiftly as the evolution of benefits law, versatility and willingness to adapt have become core tenets of our practice at Groom. With nearly 100 attorneys, Groom's benefits, retirement services and health industry practices, along with our litigation and policy groups, are among the largest in the United States.

At Groom, we recognize that our overall success is directly connected to our 150+ employees being satisfied and so we value our people first and foremost. The interpersonal relationships that make up Groom's distinct collegial and collaborative nature are critical to developing and maintaining the firm's legal expertise and technical knowledge, and so we embrace our team members' collective voices and diverse viewpoints.
Purpose
Groom strives to be the nation's preeminent benefits, retirement, and health care law firm.
Vision
We envision a world where all people are healthier and wealthier.
Mission
We are committed to supporting companies and organizations who provide healthcare and retirement plans, and other benefits, so all individuals in our country can be as healthy as possible and enjoy the financial security they need to live their best lives.
Additional Culture Details
Listening to one another and receiving ongoing feedback from all is a key driver of maintaining our strong culture. Informed by factoring in input from of all of our team members, we developed a powerful set of values, beliefs, and principles to guide our day-to-day. Our culture is based on six values, each with a marked set of behaviors that illustrate how we strive to interact, complement and harmonize with one another and our clients.
Values
Accountability

We are accountable to each other and our clients.
We exceed expectations and "go the extra mile."
We take responsibility for all of our actions.
Headquarters
Washington, DC
Employees
150 US Employees
We're Hiring!
What employees are saying
This is the best firm at which I have ever worked. I knew it was different and special the minute I walked in the door, and I have not waivered one bit from feeling that way almost 4 years later. I feel that everyone is treated equally at Groom, the staff is not looked down on at all, as has been the case at other firms. It's a wonderful place to work and I know I am blessed!
I work with the best of the best on cutting edge issues.
I am given the freedom to do my work without micromanagement. The attorneys are all helpful and I feel respected and appreciated. Groom management is constantly looking for ways to make coming to work a pleasant experience.
I get to do sophisticated, high-profile work for big clients, but in a small-firm atmosphere where I get to know my colleagues and have flexibility to work the way I want.
Groom is a great place to work with many perks!
I'm able to work with the best and the brightest professionals (across lawyers and staff). Everyone seems happy to be part of Groom and works toward a common purpose of upholding the highest standards.
I can't imagine working with nicer people in a more supportive environment.
Company Snapshots