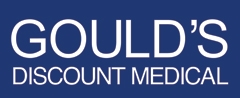 Gould's Discount Medical
Gould's Discount Medical
Gould's Discount Medical, family owned and operated for over 20years, provides home medical equipment and supplies, respiratory care and individually tailored solutions for patients with mobility, accessibility, orthotic, bracing, sleep apnea, and special home service needs. Plus, Gould's has a vast medical uniforms, scrubs, shoes and accessories department. Noted for our extensive inventory, Gould's is one of the largest independent home medical equipment & supply companies in the United States.

Our hands-on showroom enables customers to try out equipment before purchasing.

We are committed to providing high quality professional services and equipment that meet or exceed the standards of our industry. Our professional staff consists of certified, highly educated, trained individuals – specialists in their field.

At Gould's you'll find everything you need from one trusted source.

Some of the thousands of health related products we provide include stair lifts, home elevators, vehicle lifts, ramps, transfer aids, scooters, power chairs, wheelchairs, home oxygen, mastectomy products, diabetic shoes and compression stockings.

JACHO accredited.
Company Snapshots