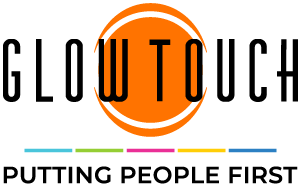 GlowTouch LLC
GlowTouch LLC
GlowTouch is a privately held and WBENC-certified, woman-owned enterprise, founded in 2002. We provide personalized, omnichannel contact center, business processing, and technology outsourcing solutions to clients around the world. Our 2,300+ employees deliver operational excellence with high-touch engagement garnering recognition by independent bodies such as Everest Group, International Association of Outsourcing Professionals (IAOP), and as a six-time honoree on the Inc. 5000. GlowTouch is headquartered in Louisville, KY, with onshore contact centers in Louisville, KY, and Miami, FL; a nearshore presence in Santo Domingo, Dominican Republic; and offshore locations in Mangalore, Bangalore, and Mysore, India. To learn more about GlowTouch, visit www.GlowTouch.com
Purpose
Our people-centric culture is exemplified by our winning team of highly
experienced industry experts. We put people at the heart of everything we do for
our employees, our clients, their customers, and the communities we serve.
Vision
To be a leading global provider of innovative contact center, business process, and technology outsourcing solutions, and a trusted "go-to" partner for those we serve.
Mission
The GlowTouch Mission:

To develop enduring client relationships by delivering services that effectively and continually contribute to their growth and success.
Additional Culture Details
For us, "Putting People First" is more than our motto; it's who we are and what we do. We value our employees, customers, and communities and want them to thrive, not just survive. We're like one big family, all working hard and working together to make sure our customers have an exceptional experience.
Values
Integrity and Respect

We believe in practicing ethical business standards and conducting ourselves with the utmost level of integrity and mutual respect.
Headquarters
Louisville, KY
Employees
168 US Employees