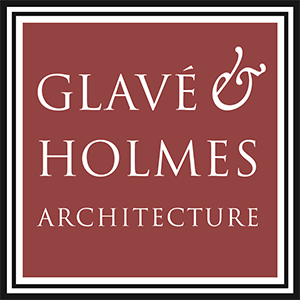 Glavé & Holmes Architecture
Glavé & Holmes Architecture
A nationally recognized architecture, interior design, and planning firm, Glavé & Holmes Architecture (G&HA) was founded in 1965 in Richmond, Virginia. The firm of 67 architects, interior designers, historic preservationists, and supporting staff, maintains a diverse and integrated portfolio demonstrating expertise in numerous market areas, including Higher Education, Cultural, Civic, Hospitality, and Residential. Clients are provided with comprehensive services whether projects involve new buildings, additions to buildings, renovations, or adaptive reuse. G&HA upholds an ongoing legacy of creating highly functional, context-specific designs that fit into the cultural and historical milieu of a given community. Extensive experience and talent conjures the historical and architectural values necessary to create a desirable and lasting impact.
Purpose
G&HA's purpose is to serve others through architecture and design that elevates the human spirit.
Vision
G&HA will build a legacy of enduring the beautiful places and relationships that celebrate the human spirit.
Mission
G&HA's mission is to be a leading practitioner of contextual design—providing clients with well-crafted design that reflects their perspectives; design that understands and elevates their communities.
Values
Mission

Glavé & Holmes Architecture's purpose is to serve our clients in a spirit of active collaboration. We are leaders in practice of contextual design, & we are mentors & stewards for communities. We believe great architecture can elevate the human spirit and that is our Mission.
Company Snapshots