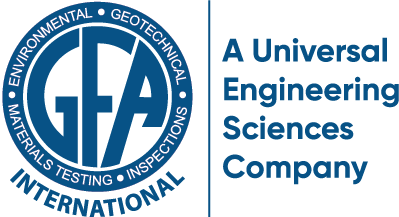 GFA International, Inc.
GFA International, Inc.
GFA International, Inc. "GFA" is a full-service Engineering Firm providing Geotechnical Engineering, Environmental Consulting, Construction Materials Testing and Inspections, Building Code Compliance, and Health & Safety Consulting Solutions. The entrepreneurial spirit and dedicated leadership of GFA's founders, Frank Frione and Fred Kaub, have helped the company to grow and expand its service offerings to numerous clients in the public and private sector.

GFA has been dedicated to a team-focused philosophy that is ingrained into the company's DNA and has guided the way they have conducted business for the past three decades:

TEAMWORK
ETHICS
ACCURACY
METICULOUS
GROWTH
FOCUS
ASSOCIATES

Making a difference in the community is an important part of GFA's culture. Whether through financial contribution, volunteering their time, or sharing professional skills and knowledge, the team members at GFA maintain a strong commitment to making a positive impact on people, society, and the planet.
Purpose
Since the firm's inception, our emphasis has been on aggressively pursuing the interests of our clients. GFA has established a reputation as a trusted partner in delivering solutions our clients can trust, added value through our innovative abilities, and exceptional service. Our success can be exhibited by our tenure with our clients, many of which we have served for over 20 years.
Vision
To be recongnized as the world class engineering firm of choice by our customers, employees, and our community.
Mission
To provide world class engineering services to our customers with a dedication to professionalism, customer satisfaction, accuracy, timeliness an unparalleled value.
Additional Culture Details
We are powered by our people. GFA is all about our teammates – from our field staff through to senior leadership; people are what make our business great. We believe it's vital to create a great working culture because it's only when our team members feel happy, safe and valued that they can provide the best level of service to our customers.
Values
TEAMWORK

Team = Together Everyone Achieves More by the sharing of ideas, skills and resources throughout our company.
Company Snapshots