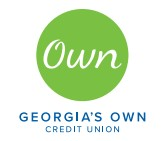 Georgia's Own Credit Union
Georgia's Own Credit Union
A credit union is like a bank, but better. Georgia's Own is a full-service, not-for-profit financial institution, owned by members (that's you!) rather than controlled by stockholders. You'll find all the products and services you'd expect from a financial institution, but with better rates and fewer, lower fees. We believe when we invest in our members, it strengthens our communities, too. That's Banking on Purpose.
Values
Banking on Purpose

While many things have changed throughout our long history as a Credit Union, acting with purpose—whether it's serving our members, giving back to our communities, or cultivating our employees—has remained the foundation of what we do. Banking On Purpose explains our character and motivation. It drives our decision-making, and is the underlying reason why people should choose us as an employer and financial institution. Banking on Purpose is not just a tagline—it is our mission and vision, both internally and externally.
Employees
535 US Employees
We're Hiring!
What employees are saying
GEORGIAS OWN REALLY CARE ABOUT THEIR EMPLOYEES
Because I work with some amazing people, I have a CM who cares about his work family. He is positive and honest and supportive.
In my work I am able to be very flexible with my schedule, and I feel like I am able to contribute to the overall success of the company.
I feel like I am an important part of Georgia's own and what I do matters.
I am able to contribute to the greater cause of providing our community with financial assistance to meet the needs and dreams of their families.
I get to do what I enjoy and I have an amazing team and support.
Georgia's Own is true to its values
Its fulfilling and I am learning so much about Georgia's Own Credit Union and its culture and diversity. My manager is very responsive and supportive in helping me to be successful at my job.
Company Snapshots