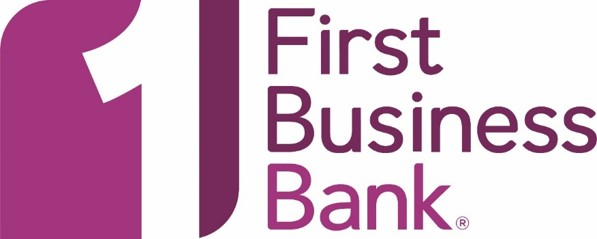 First Business Bank
First Business Bank
Experience. The Advantage.

We're passionate about helping businesses and people. Since the day our doors opened in 1990, we've believed that success relies on putting people first – our clients, our employees, our families, and our communities. The result is extremely engaged employees who feel supported and provide unmatched client satisfaction.

First Business Financial Services, Inc. is the proud parent company of First Business Bank, providing shared corporate services to the entire organization. Our companies specialize in Business Banking, including Commercial Banking and Specialty Finance, Private Wealth, and Bank Consulting services.

With comprehensive total rewards to support our team members, a commitment to valuing each other's differences, and a focus on improving our communities, we are confident you'll find the experience is your advantage. Check out our latest job opportunities here: https://firstbusiness.bank/careers/
Additional Culture Details
Diversity Programs & Initiatives
At First Business Bank….
• We have a collective responsibility to share in the commitment to diversity, equity, and inclusion;
• To ensure all voices are heard;
• To create an environment where everyone has a sense of belonging;
• And where we can show up every day as our true and authentic selves.

Community Involvement
Giving back is important at First Business Bank — one facet of our commitment to creating robust communities. Our employees dedicate their time and resources to service organizations and non-profit boards across all of our markets, directly impacting their communities. As an organization, we wholeheartedly support making contributions to local charitable organizations in our communities. Each location has a First Business Bank Charitable Foundation with a corporate contributions committee that evaluates all requests for contributions, and ensures that each need is given thoughtful consideration.

Total Rewards
We value the total rewards package – compensation, benefits, and wellness – that we provide to our employees, and know that taking care of our people and their families will have a direct impact on their success and the success of our company. Among the many benefits of working at First Business Bank, employees enjoy:

• Competitive compensation
• Annual bonus program
• Individual incentive plans
• Comprehensive insurance packages
• 401K matching & profit sharing
• Generous paid time off
• Flex scheduling
• And more!
Values
Company Values

As a part of First Business Bank, you'll find a unique culture based on our "Statement of Beliefs" — 28 statements created when the company was founded capturing expectations of how we behave and treat each other. We expanded these core values and created a Cultural Competency Framework, which defines observable skills and behaviors required to be successful. Our competencies are important to us because we know that our talent fuels company growth and success. We use these core values not only to communicate our culture, but also to help guide employee career growth and development.

Cultural Competencies
- Action Oriented
- Cultivates Innovation
- Values Differences
- Instills Trust
- Collaborates
- Client Focus
Employees
350 US Employees
We're Hiring!
What employees are saying
I get to work with people who are the best in the business and generally kind, caring people who all understand how to work toward common goals together. The company cares about me as a professional and as a person, and provides me all the tools and opportunities for my own growth and development, as well as support of my life and family outside of work.
I can make an impact every day, working side by side amazing colleagues that do their best to ensure success for themselves, the company, and the community.
The people I work with every day are hardworking and truly care about their coworkers.
I feel challenged and appreciated. I am happy with the balance I have between my job and my personal life. I am proud to work for a company that is community minded and involved. I believe First Business truly cares about their employees. I appreciate that I am able to work independently and remotely.
I have the ability to work remote, the ability to learn & grow and there is a balance of work & life.
Company Snapshots