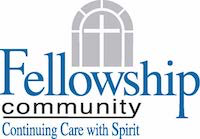 Fellowship Community
Fellowship Community
Experience Excellence

For over 30 years, our faith-based ministry has provided a tradition of excellence in serving seniors.

Come and experience the Fellowship Way; customer service that is rooted in a strong foundation of our core values: ethics, spirituality, excellence, teamwork and professionalism enhanced by the empathy and compassion of our caring staff.

Fellowship offers a comprehensive continuum of services that include independent living, personal care, skilled nursing, short-term rehabilitation and memory support – all on our beautiful campus. Our experienced staff is fully-trained, exceptionally friendly and mission-driven.

Our services have been honored with national and regional recognition such as U.S. News & World Report as a Best Nursing Home and a Best Short-Stay Rehabilitation, Fellowship Community has also been named as one of the Best in Extended Care by the Women's Choice Award. Our skilled nursing has been accredited by the Joint Commission with special programs.

Live at Fellowship Community and enjoy loving friends, great opportunities, spiritual guidance and outstanding healthcare.
Purpose
It is our purpose to provide the highest quality care, comfort and safety possible to each resident and in accordance with all applicable laws. All employees of Fellowship Community are required to adhere to this purpose, because we have a special responsibility to perform in a vital area of human services.
Vision
We will be the preferred choice for Senior Living in Eastern Pennsylvania by upholding a Christian world-view that affirms the nature, dignity and eternal destiny of every person.
Mission
Motivated by the compassion of the Lord and Savior Jesus Christ, our mission is to be a continuing care community passionately committed to improving the quality of life of our residents by promoting their social, physical, psychological, emotional, intellectual and spiritual well-being.