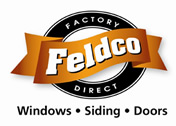 Feldco Factory Direct
Feldco Factory Direct
Founded in 1976, Feldco is the Midwest's leading home renewal company focused on delighting customers with the industry's best value and experience. Offering premium products, factory-direct pricing, and certified installation teams, Feldco provides excellent overall value and a superior experience for its over 500,000 customers by offering free in-home demonstrations and lifetime product warranties. Feldco's expansion throughout the Midwest now serves all of Central and Northern Illinois, Northwest Indiana, Central, Southern, and Northeast Wisconsin and Eastern Iowa with showrooms and sales offices in eleven locations. The Feldco brand continues to be built by almost 50 years of customer trust, installation experience and commitment to delighting customers with hassle-free home improvement projects. In addition to windows, siding and doors, Feldco now offers roofing in all their locations.
Vision
Feldco is committed to "Improving Lives, One Home at a Time", understanding that their products become a part of homeowners' everyday lives. Helping homeowners with an excellent experience by providing energy efficient products, Feldco is delighted in knowing their customers enjoy lower heating and cooling bills. Feldco is not just dedicated to improving the lives of their customers, but the lives of their employees as well. They call it "internal" customer delight and Feldco proudly maintains a strong employee base with engaging corporate efforts. Additionally, Feldco recently announced they would be moving to a brand new, state of the art facility in 2023, that will no doubt not only delight their current employees but attract new, quality talent to join their growing team. There will be new offices, new furniture, a full-service café and fitness center – a place everyone can be proud to work.
Mission
To delight our customers with the industry's best value and experience as the Midwest's leading home renewal company.
Additional Culture Details
Feldco is a team environment whose culture focuses on Customer Delight, Teamwork, Professionalism, Accountability, and Productivity. Their workforce is growing in diversity and committed to professional as well as personal growth. Opportunities for advancement are abundant at Feldco as many of their management & supervisory team members have advanced their careers from the ground up. Feldco team members like to say they are "all pulling on the same end of the rope" to attain their goals in a fun and cooperative atmosphere.
Values
Feldco's 5 Keys to Success

Customer Delight,
Teamwork,
Professionalism,
Accountability,
Productivity.
Company Snapshots