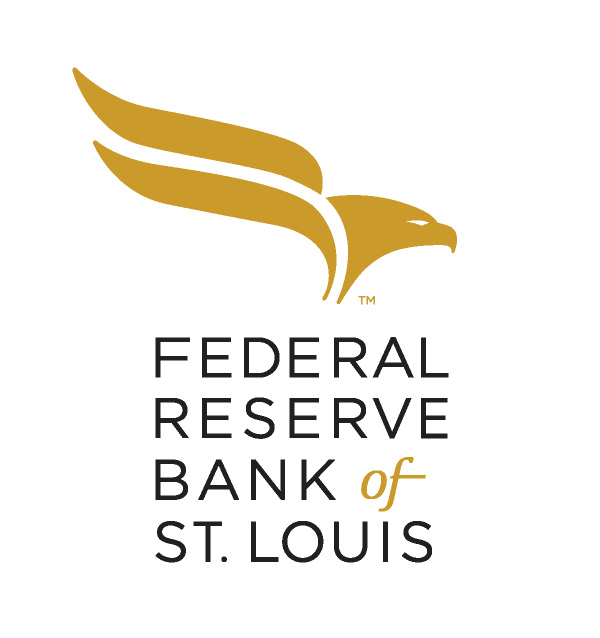 Federal Reserve Bank of St. Louis
Federal Reserve Bank of St. Louis
The Federal Reserve Bank of St. Louis was established in 1914, after the creation of the Federal Reserve System in 1913. The Fed System includes 12 independent, regional Reserve Banks, in addition to the Board of Governors in Washington, D.C.
The Federal Reserve's Eighth District covers all or parts of Missouri, Illinois, Indiana, Kentucky, Tennessee, Mississippi and Arkansas. Headquartered in St. Louis, the Bank has branches in Little Rock, Louisville and Memphis.
The St. Louis Fed's most critical functions include:
•    promoting stable prices and economic growth
•    fostering a sound financial system
•    providing payment services to financial institutions
•    supporting the U.S. Treasury's financial operations
•    advancing economic education, community development and fair access to credit
Purpose
We promote stable prices and economic growth. We foster a sound financial system. We provide payment services to financial institutions. We support the U.S. Treasury's financial operations. We advance economic knowledge, community development and fair access to credit.
Mission
The Federal Reserve promotes a healthy economy and financial stability. We do this by:

Pursuing maximum employment, stable prices and moderate long-term interest rates;
Ensuring safety and soundness of the nation's banking and financial system and protecting the credit rights of consumers;
Maintaining stability of the financial system and containing systemic risk; and
Providing financial services to depository institutions, the U.S. government and foreign official institutions.
Additional Culture Details
Headquartered in downtown St. Louis at the intersection of Fourth, St. Charles and Broadway, the Federal Reserve Bank of St. Louis takes great pride in serving "Main Street" audiences and representing their views.

The St. Louis Fed is located in the Eighth Federal Reserve District, which includes all of Arkansas and portions of six other states: Illinois, Indiana, Kentucky, Mississippi, Missouri and Tennessee. The St. Louis Bank serves most of eastern Missouri and southern Illinois. We also have branch locations in Little Rock, Louisville and Memphis.

Decentralized by Design

The Federal Reserve is not a central bank for which the reserves and decisions are concentrated on Wall Street or in Washington, D.C. We're a decentralized central bank for which the reserves and decision-making are distributed across the country.

This decentralized structure ensures that the economic conditions of communities and industries from all regions of the nation are taken into account in monetary policy decision-making through the regional Reserve banks — including the St. Louis Fed — that serve the 12 Fed districts.
Values
Independent Thinking

We challenge conventional views and offer alternative solutions to improve decision-making.