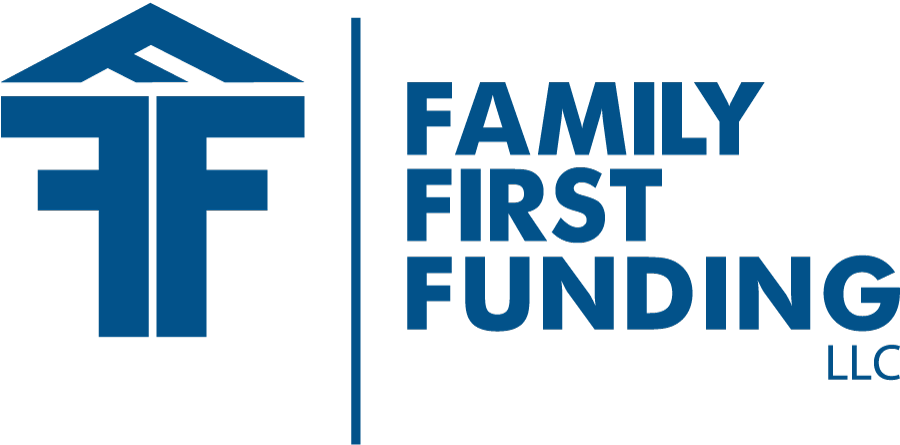 Family First Funding LLC
Family First Funding LLC
Family First Funding LLC is a direct lender that offers high-quality mortgage banking services to residential and business customers. Our goal is to provide customers and their families with competitive rates and reasonable fees while educating them on the best financing options. With office locations throughout the country, we take pride in providing personalized service and attention for today's homeowners and homebuyers. Let Our Family Help Yours!™
Purpose
Family First Funding LLC is a Mortgage Banker licensed in over 30+ states (NMLS# 810371), offering high-quality mortgage banking and brokering services to residential and business customers. Their aim is to provide their clients with fair and reasonable rates and costs, while keeping them informed and educated throughout the process. Family First Funding LLC is a professional environment that is challenging, rewarding, creative, and respectful of their individuals and their ideals. Family First Funding ultimately provides excellent value to its customers and fair reward to its owners and employees. "Family First Is Not Just Our Name… It's What We Value!"
Values
Family

We believe in treating employees and customers as if they are family in order to provide the best possible experience.
What employees are saying
I FEEL I CAN POSITIVELY CONTRIBUTE TO THE GOALS AND EXPECTATIONS OF THE COMPANY AND I HAVE A VERY POSITIVE WORK, LIFE BALANCE BEING ABLE TO WORK REMOTELY. FOR ALL OF THIS, I AM EXTREMELY THANKFUL
Flexibility in the fact that life happens sometimes during working hours and allows us to make up that time. Makes me feel equal and valued. We all work as a team and not against each other. I do not feel over worked and can balance work and family life so much better than before. I truly appreciate being part of the FFF Family.
I love the culture, structure and inclusion at Family First Funding LLC. I really appreciate and admire the leadership structure from top to bottom. It's a place that illustrates and demonstrates unity. The company's name really fits its title of a Family atmosphere. I genuinely like being a part of this company.
I feel valued and appreciated. My manager is great, always helpful and very supportive. The senior management is always helpful and constantly finding ways to improve.
I love helping borrowers achieve the dream of homeownership. I love being a part of a team where I feel appreciated and accepted. I love feeling that my voice is heard and my opinion matters.
I have the abilities to not only work from home so my daughter is not in daycare but also do my job to my full potential while also being able to suggest changes and see them implemented.
The people I started working with at FFF were the greatest group of people I ever worked with. This made me love going to work every single day.
I am able to get first hand experience and am given all the tools I need to grow within the industry. I never feel shy to ask a question that I need answered and am given encouragement to do so.
The work I am doing excites me and it is what I have always wanted to do. I love that Family First still have a lot of opportunity for growth and that we can grow with it. The people here are all so nice and willing to jump in and help when someone needs it.
I truly enjoy meeting new people, socialization, helping others on the phone. I usually have a lot of energy and I like the fact that I get around the office all the time.
Company Snapshots