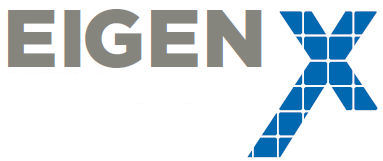 Eigen X, LLC
Eigen X, LLC
Purpose
Eigen X is technology services company delivering scalable solutions which achieve business outcomes for a unique blend of Fortune 1000 and emerging companies as well as educational institutions and not-for-profits.
Vision
To be recognized as a leading provider of technology-enabled consulting services by: Building lasting relationships with the best clients and partners in the industry based on consistently delivering on our commitments. Providing our employees with growth opportunities and meaningful experiences, within a great and award-winning culture. Empowering our people to do right by our clients and good in our community
Mission
Eigen X is a data and technology-focused professional services firm. Our team represents the best talent in Data Architecture, Analytics, Master Data Management, CRM, Collaboration, Social Media and related technologies. With all of our projects delivered using an Agile Framework, we are able to rapidly deploy solutions for our clients.
Additional Culture Details
We believe in:

Commitment – To our employees, clients, partners and community
Culture – Cultivating a sense of community and providing opportunities for empowerment and growth
Partnership – Building and maintaining relationships with clients, employees and partners to promote mutually beneficial outcomes
Execution – Earning the trust of our clients by getting things done and achieving positive results
Quality – Ensuring excellence in everything we do