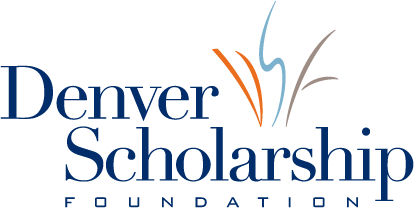 Denver Scholarship Foundation
Denver Scholarship Foundation
Denver Scholarship Foundation (DSF) is a 501c3 nonprofit organization making college possible and building the educational and economical future of Denver by removing barriers to postsecondary institutions of higher education and increasing generational access to career and entrepreneurial opportunities for Denver Public Schools (DPS) high school students through its nationally-recognized three-part program consisting of a hands-on support system, actionable tools, scholarships, and resources to help students apply to, pay for, and graduate college. DSF serves students at 22 DPS high schools through 14 on-site Future Centers, and partners with 31 colleges in Colorado, including technical college, community colleges, and universities to work hand-in-hand with them to and through college graduation. Since 2006, DSF has awarded $52.4 million in scholarships, changing the life trajectory for 8,272 DPS graduates.
Mission
The Denver Scholarship Foundation inspires and empowers Denver Public Schools' students to enroll in and graduate from postsecondary institutions of higher education, by providing the tools, knowledge, and financial resources essential for success.
Values
Equity

We believe in the potential of every Denver Public School student, and we believe every one of them deserves the chance to earn a college or technical school degree.
Company Snapshots