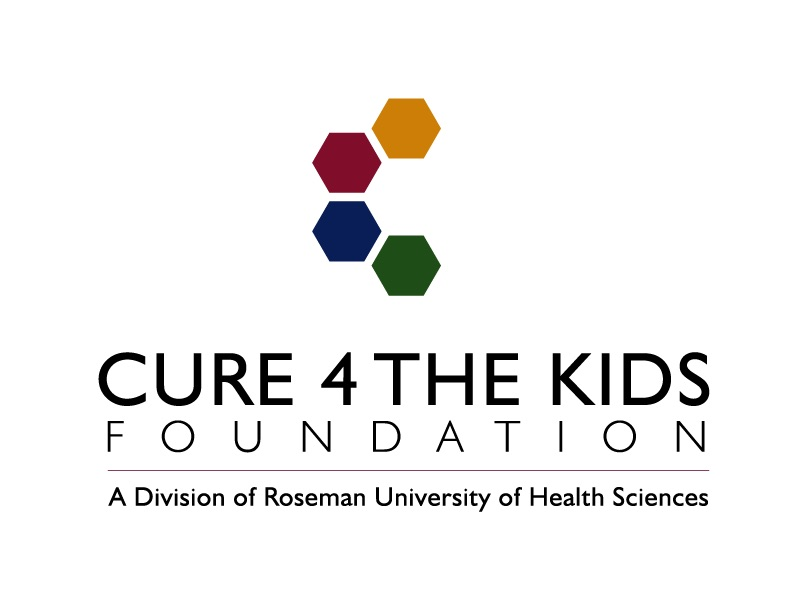 Cure 4 The Kids Foundation
Cure 4 The Kids Foundation
Cure 4 The Kids Foundation is advancing cures and prevention of childhood diseases through clinical excellence, research, and innovation. We are a 501 (c)3 tax-exempt organization and an independent division of Roseman University of Health Sciences. We are the community leader in the research and treatment of childhood cancer and other catastrophic childhood diseases. Our vision is to ensure continuous quality improvement through being a reliable, efficient, and responsive team that has the capability of meeting the individual needs of this patient while continually improving care for the next patient.
Purpose
Nevada's Childhood Cancer Treatment Center
Founded in 2007, we set out to create a legacy project for our community, not just another business. Our model blends the required structure and rigor of the best clinical practices found in centers of excellence; practices normally reserved for large corporate and/or academic healthcare environments, with the responsibility and generosity of philanthropy.

The primary approach behind our business model is to create a new kind of healthcare facility; one that blended the best of what corporate healthcare, education and research has to offer with the generosity, thoughtfulness, and spirit of charity. This hybrid model allows us to function like a traditional professional healthcare entity in terms of clinical outcomes, yet also allows us to be deeply human in our interactions with patients and their families. Our focus is being a nationally recognized center of excellence with a regional focus that equips kids and their families to fight diseases, where no kid gets turned away; that is what makes us uniquely Cure 4 The Kids Foundation.
Vision
Organizational Core Values

Accountability
Always maintain an environment where full professional and personal accountability is not only an expectation but is rewarded.

Continuous Improvement
Always looking to make sure we are achieving the best possible outcomes for this patient while searching for improved means for the next patient.

Integrity
Always doing the right thing at the right time for the right patient and the right reason.

Service Excellence
Always striving to provide the highest quality of care and insuring a healthy and professionally rewarding career environment.
Additional Culture Details
Love & Care | A Human Experience Rooted in Empathy
We differentiate ourselves by rethinking the entire experience for patients, families, and team members and doubling down on being more than just a medical provider or employer. We show the world that healthcare can care for everyone involved.

Radical Relationships | Because we can't do this alone
Curing cancer is too big a challenge for any one organization to do alone. That's why we set our egos aside and think boldly about who can join us in the fight. We invite all renegades, entrepreneurs, and change-makers to join us in eradicating cancer while creating a world-class healthcare experience.

Disruption | Sharing C4K with the World
Our DNA is set. Our business model is proven. Now it's time to disrupt how healthcare is provided, received, and funded when children and their families need it the most. Nevada's children deserve better, and we're proud to lead the way.
Values
Accountability

Takes responsibility and ownership.
Company Snapshots