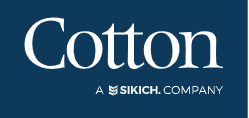 Cotton, A Sikich Company
Cotton, A Sikich Company
Cotton, a Sikich company is a CPA firm that provides specialized services for governmental agencies and programs, as well as commercial clients. Since our founding in 1981, we've served hundreds of federal, state & local government agencies and private entities and have built lasting relationships with them. Based in Historic Alexandria, VA, our proximity to Washington, D.C. strengthens our client relationships and provides accessible services.

Cotton promotes transparency and accountability by providing a full range of professional services in the areas of financial and information assurance, financial and information systems consulting, contracts and grants, and litigation support.

At Cotton, our commitment to serving the public is always a priority as we assist our clients in ensuring that taxpayer and stakeholder resources and data are properly handled. Our work requires equal amounts of precision and passion to effectively contribute to our clients' missions and goals.
Mission
Cotton, a Sikich company is committed to serving the public interest, exceeding client expectations, supporting our community, and providing career-enhancing opportunities for our personnel. Our success providing assurance and advisory services is the result of the professional skills and integrity of our people.
Values
Absolute Integrity

Showing unwavering integrity in all you do, regardless of the situation.
Company Snapshots