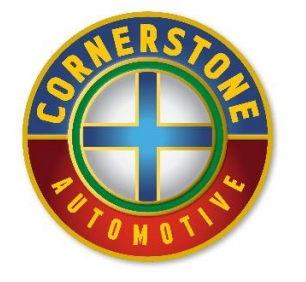 Cornerstone Auto Group
Cornerstone Auto Group
Cornerstone Auto Group is a family-owned business for nearly 60 years. The company was founded in the early 1960's with Brookdale Ford, one of the largest Ford dealerships in Minnesota. In 1972 we acquired Elk River Ford, our longest continually serving location. We expanded with a Chrysler Dodge Ram franchise, followed by Jeep, and KIA. Since 2010, Cornerstone has added a pre-owned location in Plymouth and a Chevrolet dealership in Monticello.
We are honored to serve everyone. We live our values through our actions. Determination, hard work, doing what's right, striving always to improve, and a deep commitment to serving others – these are the things that will continue to define who we are and what we do. Our workforce is the most valuable asset we have and the reason for our success. We're proud of being recognized by our employees as a Minnesota Top Workplace. We treat our customers the way we want to be treated. Please allow us the opportunity to help you get to where you're going!
Purpose
We help people live life to the fullest – safely, with peace of mind. We help people get where they want to go, do what they need to do. Hold a job, get a degree, build a career. Go across town. Or see all of America. Whenever they want. We help people connect. Moms, dads, kids. Friends, colleagues and customers. Together for fun or work, then home again. Whenever they want. We give people peace of mind. To travel comfortably. To go safely, worry-free. Whenever they want.
Mission
Cornerstone Auto operates on Christian-based principles. We know of no better role model than Jesus Christ. The life He led inspires us. He made His relationship to people His top priority. It is our desire to do the same. The principles He taught are the foundation for our decisions. We respect the uniqueness of all people and we serve the Lord by treating employees and customers the way we would want to be treated, with honesty and integrity.
Values
WE value our relationships. With each other, our customers and our communities.