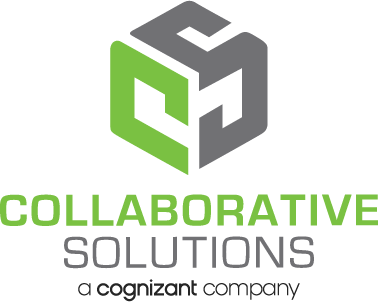 Collaborative Solutions
Collaborative Solutions
Collaborative Solutions, a Cognizant Company, is a leading global Finance and HR Transformation consultancy that leverages world-class cloud solutions to help deliver successful outcomes for clients. As the third largest and tenured Workday Services Partner, Collaborative Solutions has a 98% client satisfaction rate and has partnered with over 2,100 clients including global Fortune 500 companies, medium-sized businesses, and education and government institutions. Collaborative Solutions has deployed in over 125 countries and has experience with organizations ranging from 200 to 200,000 employees. Collaborative Solutions is based in the Washington, D.C., metro area and has offices throughout North America, Europe and Asia-Pacific.
Purpose
Our purpose is to enable proven technologies to maximize the strategic benefits offered, specific to the needs of each customer
Vision
To become the most trusted global enterprise software transformation consultancy.
Mission
Collaborative Solutions is an award-winning consultancy that leverages world-class technology to drive successful digital transformation for enterprise customers.
Additional Culture Details
Our Diversity & Inclusion Council, formed in the fall of 2019, has been a huge part of the way that we have supported not only our employees, but also our communities. This council is comprised of employees and executive leaders who want to enhance our culture by creating awareness, driving meaningful change, and promoting an equitable and inclusive workplace. The council often sources opportunities for employees to give back to their coworkers as well as their communities: many virtual volunteering and fundraising efforts have been born from this group in the past year. Within the council framework, several Employee Resource Groups (ERGs) have formed to empower and foster connection between employees. These include: Hue - Collabies of Color, HYPE - Young Professionals, VALOR - Collaborative's Veterans, Active Military, and Military Families, SPECTRUM - Collaborative's LGBTQ+ Community, Women Together - Women of Collaborative, Families@Work - Collaborative's Caregivers, and Mind Matters - Collaborative's Mental Health Network. These ERGs held several events throughout the year, with excellent ratings and feedback reflected in post-event surveys. There are also plans to create more ERGs in the future.
Values
Balance

We believe the best outcomes exist when priorities complement rather than compete with each other. We strive for synergy between our personal and professional lives.