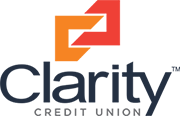 Clarity Credit Union
Clarity Credit Union
Clarity Credit Union isn't your typical financial institution. Like all credit unions, we are a not-for-profit cooperative. Our philosophy mirrors the traditional credit union philosophy of "people helping people." We exist to provide our members with exceptional access to financial products and services.

In the late 1940's a handful of railroad employees pulled together to create Idadiv Railway Credit Union, later shortened to Idadiv Credit Union. Since 1948, we've been serving the Ada and Canyon County communities.

Now, as a community chartered credit union, we can serve anyone who lives, works, worships or attends school in either Ada, Boise, Canyon, Gem, Owyhee, Payette, or Valley Counties and family members of current Clarity members. As a result, more and more people are hearing about the amazing products and exceptional service that our members receive; and we are growing in leaps and bounds!!

We take our responsibilities very seriously here; our credit union leader
Purpose
Target Market: People living paycheck to paycheck that are working to live in the growing under served communities of Southwest Idaho who value family, convenience and loyalty. They may be impulsive with financial decisions and want to trust that they will be treated well and without judgment.
Vision
From financial fog to Clarity.
Mission
Enrich the quality of life in our communities by providing fair products for people with modest means.
Additional Culture Details
What Makes Us Unique:
• We give second chances.
• We try to say yes.
• We are fair.
Values
Core Values

• Inclusive
• Passion for helping people
• Try to say yes
• Empathetic
• Fair