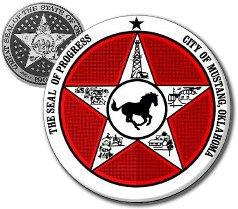 City of Mustang
City of Mustang
The City of Mustang is dynamic organization that offers wide-ranging services to the citizens of Mustang. Geographically Mustang is immediately adjacent to its largest suburb - Oklahoma City - and provides an outstanding quality of life. An award winning Library, unmatched recreational opportunities and programming, emergency services that are well planned, equipped and trained, a commitment to reinvest in infrastructure, a construction environment that is not over regulated, a fiscally conservative administration, a calm political climate, and a willing and helpful team of employees are what make the City of Mustang a successful organization.
Purpose
To provide government related services and amenities to the citizens of Mustang by being good stewards of public funds.
Vision
Remove obstacles standing in the way of people celebrating their lives.
Mission
The City of Mustang is a safe, family-friendly place to work and live. We lead the way in balanced growth while preserving our small town appeal.
Company Snapshots