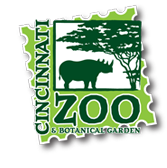 Cincinnati Zoo & Botanical Garden
Cincinnati Zoo & Botanical Garden
The Cincinnati Zoo & Botanical Garden (CZBG) is rated as the #1 year-round family attraction in the region. It consistently ranks as one of the top zoos in the country. More than 1.8 million guests, including 56,000+ member families, visit CZBG annually.

Through wide-ranging programs founded on a diverse collection of more than 1,600 animals representing over 500 species and over 3,000 botanical specimens, the CZBG has changed a passive Zoo visit into dynamic interaction and engaging experience. As the leading non-formal science educator in southern Ohio, the Zoo reaches over 330,000 children and educators each year through educational outreach. CZBG's Center for Conservation and Research of Endangered Wildlife (CREW) facility is dedicated to saving endangered plants and animals such as polar bears, rhinos and cheetahs from extinction. As the Greenest Zoo in America, CZBG is committed to environmental sustainability through green building, energy efficiency, a zero-landfill focus and much more. And finally, through strategic partnerships, CZBG is committed to improving the local community socially, culturally, educationally and environmentally.
Purpose
Inspire and connect every visitor with wildlife every day, to engage and cultivate a healthy and sustainable future
Vision
Inspiring Passion for Nature and Saving Wildlife for Future Generations!    
Mission
Creating Adventure, Conveying Knowledge, Conserving Nature, Serving Community
Additional Culture Details
The Cincinnati Zoo& Botanical Garden is known for many things- our conservation efforts, our green initiatives, our friendly staff… but did you know that we have a strong set of core values that make us the best team around, and a Top Workplace in Cincinnati? We're more than coworkers… we're family. By building Collaborative Relationships, displaying Positivity & Energy, having Pride, Passion & a Sense of Ownership, supporting Accountability, Mutual Trust& Respect, and embracing Progressive Thinking, we have built a team of dedicated staff that focuses on our visitors, our community & our future.

These are our Core Values. This is what we believe and how we act. If this gets you fired up, maybe you belong in our Zoo!

Values
Collaboartive Relationships

Promotes pro-active, open communication across all levels/departments; Actively listens to and values others' questions, concerns, and ideas; Meets face-to-face and fosters open discussions
Company Snapshots