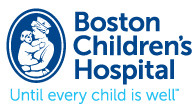 Boston Children's Hospital
Boston Children's Hospital
Boston Children's Hospital is a 395-bed comprehensive center for pediatric health care. The Boston Children's team advances the care of children globally through new discoveries, training the next generation of pediatric specialists and promoting the health and well being of families in local communities. As one of the largest pediatric medical centers in the United States, Boston Children's offers a complete range of health care services for children from birth through 21 years of age. We have 24,943 inpatient admissions each year, and our 228 specialized clinical programs schedule more than 557,620 visits annually.

Boston Children's is home to the world's largest research enterprise based at a pediatric medical center, where its discoveries have benefited both children and adults since 1869. More than 1,100 scientists comprise Boston Children's research community.

Boston Children's also is the primary pediatric teaching affiliate of Harvard Medical School.
Vision
To advance pediatric care worldwide
Mission
- To provide the highest quality of health care
- To lead the way in research and discovery
- To educate the next generation of leaders in health care
- To enhance the health and well-being of the children and families in our local community