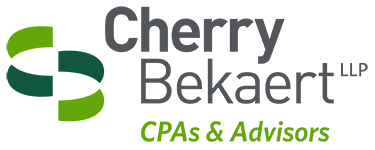 Cherry Bekaert LLP
Cherry Bekaert LLP
Ranked among the largest accounting and consulting firms in the country, Cherry Bekaert LLP provides guidance and support that helps our clients move forward to reach their organizational goals. Our Firm's industry specialists understand your marketplace, so we can help you make the most of emerging opportunities while minimizing compliance headaches.
Purpose
Cherry Bekaert fosters a work environment where diverse perspectives and ideas are respected and encouraged. The Firm supports a strong work/life balance and has been flexible during COVID in allowing employees to work around personal roadblocks. Social events and happy hours are planned across offices to encourage camaraderie and relationship-building across teams and departments.
Vision
Cherry Bekaert aspires to be a nationally recognized CPA and Advisory firm that delivers deep industry expertise and impactful solutions that are valued by our middle market client.
Mission
Our client PROMISE guarantees we are one step ahead of our clients, making their success our mission, with engagements led by teams with deep industry expertise.
Company Snapshots