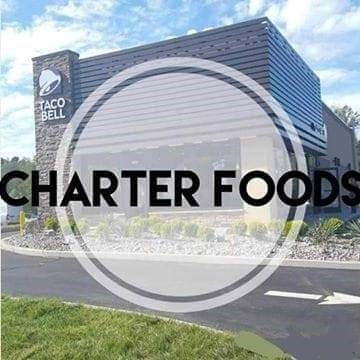 Charter Foods
Charter Foods
Charter Foods, Inc is located in Morristown, TN and is part of the Quick-Service Restaurants Industry and operates in 12 states, offering Taco Bell, Kentucky Fried Chicken, Long John Silver & A&W stores throughout the south and Northeast regions of the United States, including Pittsburgh, PA. We are one of the fastest growing Yum Brands franchisees in the country.
Purpose
Charter Foods offers employees the opportunity to work in a culture that values and encourages advancement, provides the tools and training to help you succeed, and recognizes and rewards achievement.
Vision
What sets Charter Foods apart is our positive culture, our employee recognition programs and our career advancement opportunities.
Mission
Our greatest asset is our employees. We look for those individuals who want to build a career and be a part of a successful team. We work together, grow together and succeed together.
Additional Culture Details
Each year, Charter Foods, along with the Taco Bell Foundation, awards numerous Live Mas Scholarships, to help further higher education for our employees and for members of the community. Charter Foods supports Kingswood Home for Children, a private, residential children's home for ages 5 - 18. Kingswood Home for Children is a safe, Christian home for children who need it most.
Company Snapshots